"TO BE HOME IS TO FEEL SECURE". Memory of Yasser Arafat Honored in Kyiv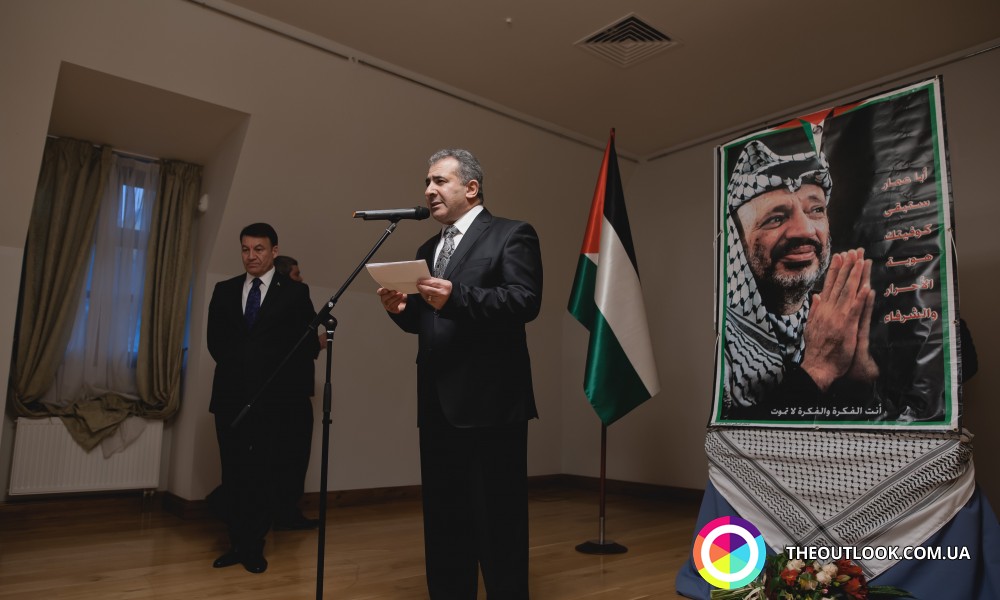 "To be home is to feel secured…" – these words belong to the founder and first head of Palestinian National Authority, fighter for freedom of Palestine, Nobel Prize winner Yasser Arafat. On November 11 Palestinian leader's commemoration evening was held in Kyiv orchestrated by Embassy of Palestine in Ukraine and Palestinian expatriates.
There was wide representation of the diplomatic corps of Islamic states in Ukraine on the event as well as diplomats from other countries friendly towards Palestine. Besides, Yasser Arafat's commemoration evening was attended by representatives of various non-governmental organizations and diasporas.
Yasser Arafat was born on August 4, 1992 in Jerusalem or in Cairo according to another version, he was fifth child in the family of a fabric vendor from Gaza. At birth he was given name Mohammed Yasser Abdel Rahman Abdel Raouf Arafat al-Qudwa al-Husseini but when he was young he changed it for current one – Yasser Arafat (Yasser means 'light'). Yasser Arafat graduated from engineering faculty of Cairo University.
In 1956, when he participated in kick-off of British, French and Israeli powers attack on Suez Canal, he was first seen in traditional Bedouin head kerchief (Keffiyeh) that became the symbol of Palestinian opposition till the end of his life. Same year Arafat moved to Kuwait where active Palestinian community had been formed by that time. There he took to construction business in which he succeeded. But his true vocation was Palestinian revolution. He decided for himself that "Palestine can only be liberated by Palestinians" and they shouldn't count on support from other Islamic states.
A year later in Kuwait he participated in creation and later took the lead of Palestinian National Liberation Movement (Fatah). Initially the group was called Hataf but it sounded a lot like Arabic word for defeat so they opted for reverse spelling. Thus in 1959 Fatah ("conquest", "victory") emerged. In 1964 with contribution from the Arab League Palestine Liberation Organization was created as a political organization that united all Palestinian opposition organizations that shared common goal: liberation of Palestine and creation of independent Palestinian state.
On April 2, 1989 Executive Committee of Palestinian National Council (NPC) elected Yasser Arafat President of Palestinian state and in July 1994 he returned to Palestine.
On September 13, 1993 Yasser Arafat and Prime Minister of Israel Yitzhak Rabin after longtime secret negotiations signed Oslo I Accord according to which NPC undertook to recognize the right of Israel for peace and security and to cease terroristic activities. As a result of the Accord Palestinian National Authority (PNA) was created to get control over West Bank of Jordan River and Gaza Strip.
In 1994 Yasser Arafat together with Yitzhak Rabin and head of Foreign Ministry of Israel Shimon Peres were awarded Nobel Peace Prize for efforts to achieve peace in Middle East.
In 2004 Arafat's health broke down abruptly, same year in autumn he was taken to Paris to Percy Hospital in severe state. In the evening of November 4 Yasser Arafat went into a coma and passed away on November 11, 2004 without regaining consciousness. Suha Arafat (Tawil) was Arafat's Counselor in economic matters. For her husband an orthodox Christian agreed to convert to Islam. In 1995 Yasser and Suha Arafat welcomed a baby daughter Zahwa called after Arafat's mother.
To see how Palestinian leader's commemoration evening went, please, visit our gallery: