The ambassador of Latvia arranged a reception in honor of Independence Day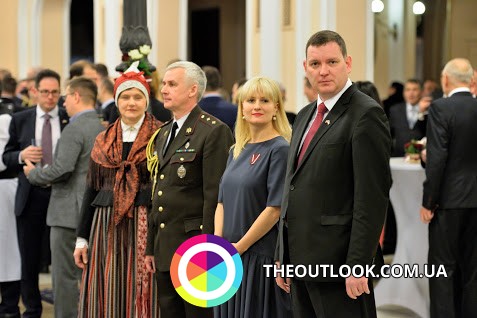 The Ambassador Extraordinary and Plenipotentiary of Latvia to Ukraine Yuriy Poykans arranged an official reception in honor of the national holiday, Independence Day. So as to express the respect this day and congratulate the head of diplomatic mission his colleagues came, such as Ambassadors Extraordinary and Plenipotentiary, diplomats, politicians, representatives of community, and mass media.
After the end of the First World War, when Latvia was still remaining actually occupied by German armies on the 28-th of November 1918, in Riga they announced 'Act about independence', according to which Latvia became an independent state and the bourgeois government of Karlis Ulmanis supported by the Triple Entente came to rule the country.
However, during two years in Latvia the military activities were continuing as the civil war was going with the main participants in the view of national bourgeois authority of K. Ulmanis under the support of the Triple Entente and social democratic powers (Bolsheviks) supported by Soviet Russia. As the result, on the 11-th of August 1920 in Riga the peaceful agreement between Russia and Latvia was signed where Russian Soviet Federated Socialistic Republic confirmed Latvian Republic as the independent state.
With the beginning of the Second world war, in 1939 Germany and USSR signed 'Agreement about non-aggression' (also known as Molotov-Ribbentrop Pact), and Latvia became the area of interests of Soviet Union losing then in such a way its independence. After the war, when country was occupied by German Fascist warrior hosts and then released by the troops of Red Army, Latvia became one of Soviet republics. And only on the 21-st of August, 1991, the parliament made decision about the full reconstruction of national identity of Latvia.
But verily the date of the 18-th of November remained in the history of country as the important day and has a great significance for Latvian nation. Then firstly for the whole history Latvia became independent parliament republic.
Certainly, the symbol of Latvia's independence became the monument of Freedom in the capital of the state, Riga. It was built near the city channel at the border of old and new city from 1931 to 1935 for the donations of nation. Beforehand, at this place the horse monument of Peter I was staying. The monument was built by Latish sculptor Karlis Zale. The sculptural groups in the foundation of the monument illustrate the exact important events in the history of Latvia and the monument is crowned by the image of Freedom, female figure symbolizing the idea of Latvia's sovereignty.
In the Independence Day in the country citizens raise flags with red-white-red symbolic and there are a plenty of festive events. The holiday is finished with the grand salute at the Embankment on the 11-th of November of river Daugava. It is better to watch it from Bastion Hill or The Vanšu Bridge