The Ambassador of Belarus met with the mayor of Lviv and the head of Lviv region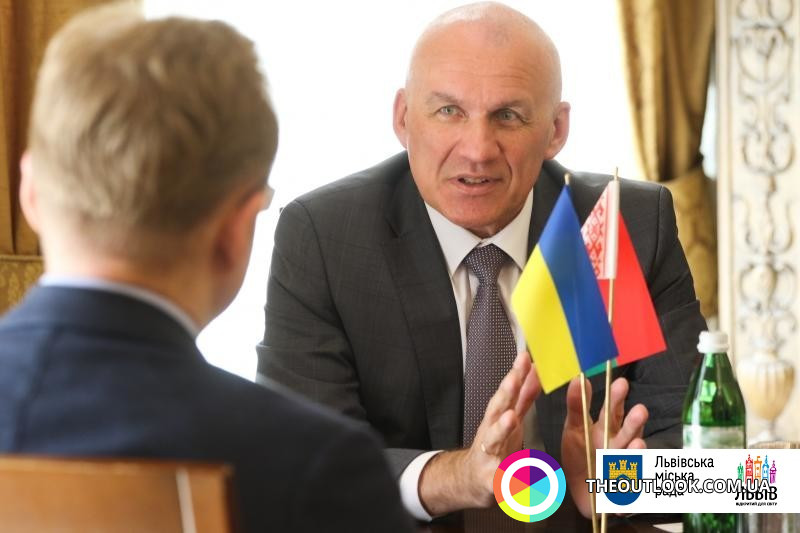 On the 15-th – 16-th of May 2017 the Ambassador Extraordinary and Plenipotentiary of Republic Belarus in Ukraine Igor Sokol visited Lviv region in the frame of which the meeting with the head of Lviv regional national administration Oleg Sinyutko and Mayor of Lviv Andrii Sadoviy.
The parties noticed the high potential of Belorussian and Ukrainian regional dialogue and confirmed the readiness to deepen the bilateral relations in trading and economic, cultural and humanitarian as well as other regions. The head of Belorussian diplomatic representation and city head of Lviv covered as the spectrum of Belorussian and Ukrainian collaboration including the contacts in the trading and economic scope, in the area of accommodation and communal household and car manufacture, humanitarian connections, cultural collaboration, then, they thought about the practical steps on the activation of travel exchange.
At the meeting with the President of Lviv commercial and industrial chamber Dmitryy Aftanas it was discussed the collaboration of Lviv commercial and industrial chamber with Grodna, Minsk, and Vitebsk departments of Belorussian commercial and industrial chamber. They noticed the necessity to actualize the agreements of collaboration of regional commercial chambers, and the possibility to organize the mutual visits is studied.
In the course of communication with the representatives of business circles the mechanism of easy-term loan was investigated in details according to the Order of the President of Belarus №466 for Ukrainian entrepreneurs that gain Belorussian automobile transport technique with the possibility of compensation by Belorussian side the part of credit in the banks of Ukraine.
Apart from that, Igor Sokol met the Representative of Lviv regional council Aleksandr Ganushin. The sides discussed the directions of interparliament collaboration of Belarus and Ukraine, the dynamics and prospects of trading and economic as well as cross-border collaboration.
The Ambassador of Belarus featuring the Head of Lviv regional national administration O. Synyutko has officially opened the exhibition project 'Being of UAK. Poet and style' that was organized in the compliance with the agreement about the collaboration between the National literature museum of Yanka Kupala and Lviv historical museum. At the exhibition the multifaced image of national poet Y. Kupala was represented as well as his great cultural education heritage. In 2017 in Belarus and far away from its borders the 135-th anniversary of the first national poet Yanka Kupala is celebrated.
In the course of the further development of humanitarian collaboration Belarus is going to get Ukrainian friends familiar with the names of the great Belorussian, culture, history, and traditions of Belorussian nation as well as modern life of our state. In its turn, the Embassy will give any support in organization of the similar unique projects in Ukraine.
Photo: press service of Lviv city national administration