The Ambassador Roman Vaschuk started in the capital celebratory events dedicated to 150-th anniversary of Canada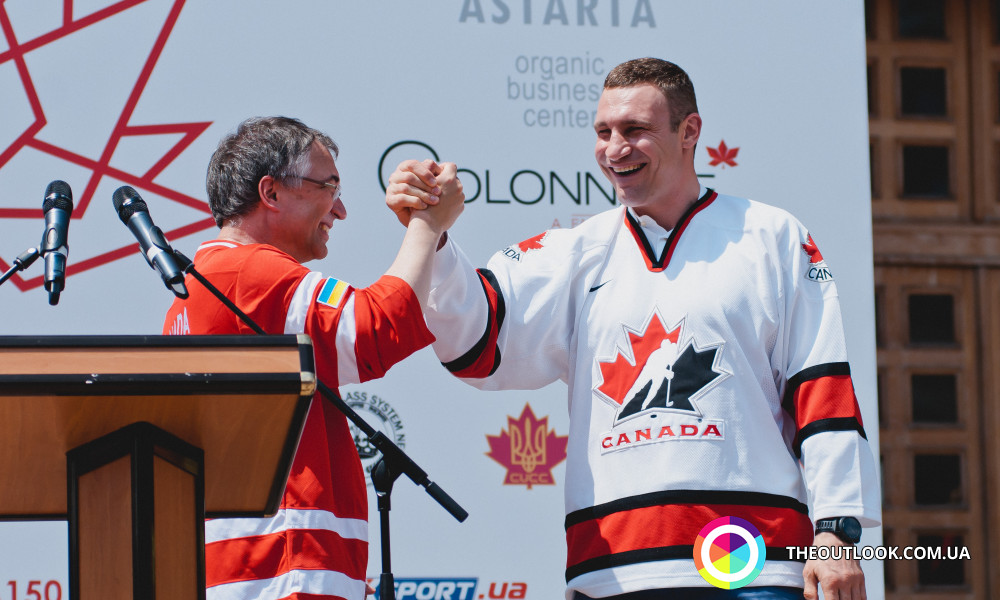 The Ambassador Extraordinary and Plenipotentiary of Canada to Ukraine Roman Vaschuk along with Major of Kyiv Vitaliy Klichko started festive events at Kreschatik dedicated to 150-th anniversary of Canada.
Starting the event, the Ambassador of Canada gratified the Kyiv head and Kyiv citizens who came to the celebration and granted the mayor of Kyiv uniform with the symbolic of Canadian hockey team. 'Today at Kreschatik, among other things, people are going to play street hockey which was invented in Canada in 1875. In the first official game the teams of Military Forces of Canada and Ukraine will meet. As well, the teams of Canadian and Ukrainian police will do their best as well as national team of 'Games of invincible' which in September is going to the International competitions in Toronto', remarked Mr Ambassador.
Applying to the guests of holiday, Kyiv city head congratulated Canadians with 150-th anniversary of Canada and noticed that has recently returned from the business trip in Toronto. 'I organized a meeting with expat community and socialized. They sincerely wish you victory and help Ukraine as much as they can. I would like to say the words of gratitude towards our Canadian friends, partners for support and help to Ukraine. As well, I am convinced that collaboration and friendly relations between our countries will develop and become even sturdier', emphasized mayor of Kyiv and wished to everybody who was present at festive events good mood and funny holiday.
As it was reported by the representative of Ukrainian team of Games of Invincible Oxana Gorbach, this year for the first time our team will be joining the competition among the military people who got injured, at the third Games of invincible in Canada in September.
'Verily this year, when Canada celebrates the 150-th anniversary, Ukrainian team of Invincible for the first time is going to represent Ukraine at international competitions in Toronto (Canada). It is a truly honored and responsible mission, despite the fact that we need to compete with sixteen countries. However, we are convinced that guys are going to show the excellent results. The participation of Ukraine in Games of Invincible is the result of common efforts of government, social organizations, ministries which with their collaboration proved that Ukraine may unite not only for the protection of the country but also for the support of each other; told Gorbach.
The captain of national team of Games of Invincible Aleksandr Pisarenko, the master of sports on boat racing reported that in the main team there are fifteen sportsmen, but this time the reserve crew from fifteen people is going,
'We will try to be in a good fit by September… In general, thirty people will represent our country. We try to perform well. I think that we will be a good example for our veterans, for other citizens and show that we can live after war, after trauma, after all the problem', told Pisarenko.
In the team there are veterans, military people from Defense Department of Ukraine, National Guard of Ukraine, National police who were serving during anti-terroristic operation. These are people in the age from 22 to 50 from different corners of Ukraine. Many of them are candidates in the masters or master s on different kinds of sports, several participated in marathons, semi-marathons, competitions on triathlon IRONMAN or in marathon of marine infantry of the USA.
After the ceremony of official opening the mayor of Kyiv along with the Ambassador also visited the exhibition of Canadian good which is going to work in Central Department Store during one week. This day at Kreschatik one may try the dishes of Canadian cuisine including maple syrup and lobsters as well as beverages produced in Canada, then, people can take part in autograph session with Canadian chef Gektor Himenos-Bravo.