Bajau: Seafarers of Southeast Asia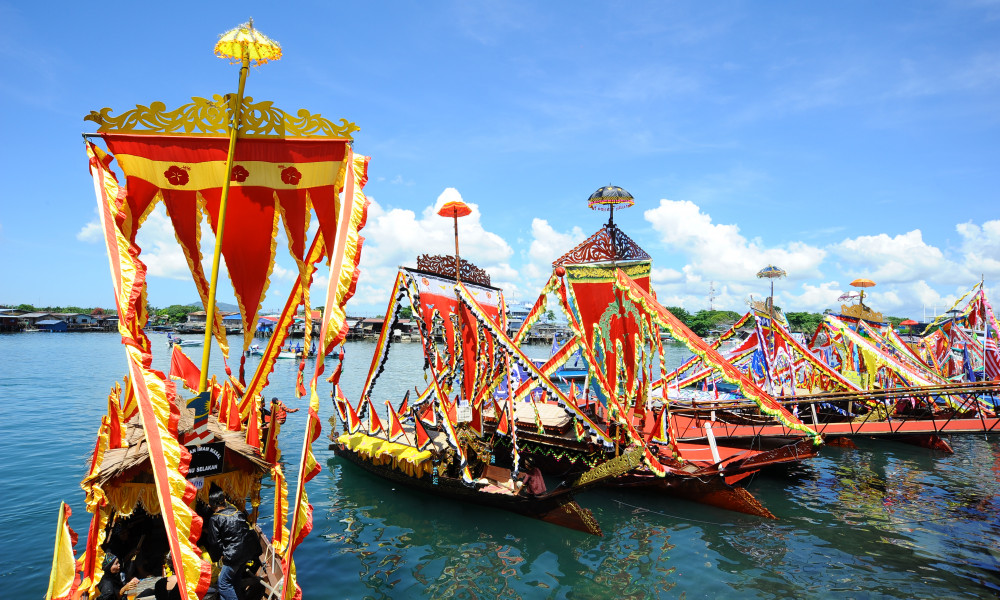 Small ethnic groupshave been always interesting for scientists and artists, who sought inspiration in their lifestyle. The Bajau - nomadic seafarers who formally can be correlated with Malaysia, are one of the most popular ethnic groups today.
This tribe, numbering a few thousand people only, is noteworthy by the fact thatthey spend nearly their entire lives at sea.Their amazing boathousesknown aslepa-lepaanchor at shores only to replenish fresh water or to bury the deceased. They say bodiesof the Bajauare not adapted to life on the big land. Excellent swimmers and free-diverswith good health, they become landsick and grow decrepit quickly if spend on the shore longer than usual time. This phenomenon has not been explained by science yet, so even in the 21st century we have to relay the legend of the past, because according to them, the tribe got into water after Islam began to spread in Asia.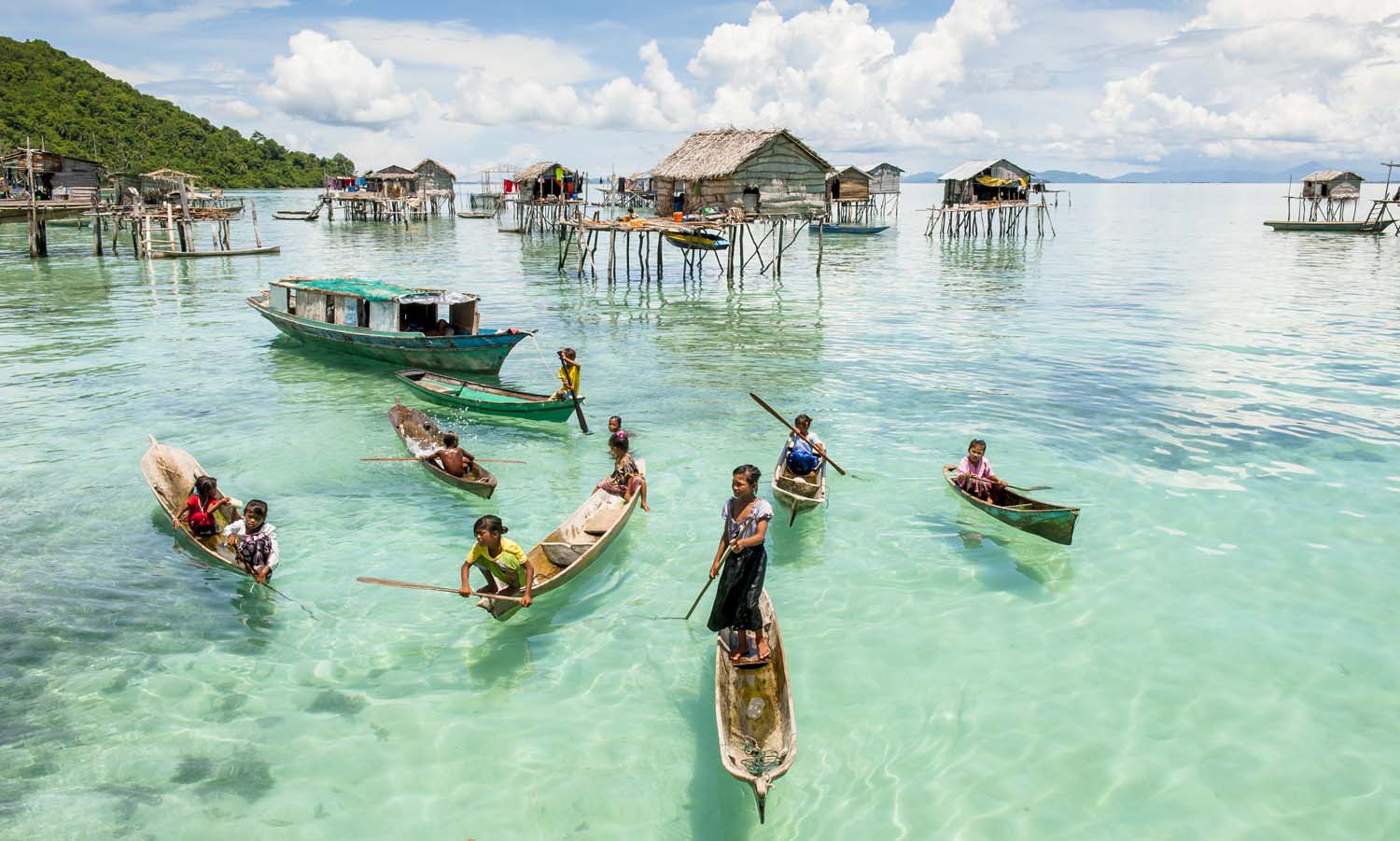 Photo mabul.com
As pagans, sea nomads were not willing to accept a new religion, so they chose to move into sea. However, they do not have a permanent residence to this day, so their boathouses can be found not only in Southeast Asia, witnesses say that sometimes lepa-lepas even show up off the coast of Australia. It is hard to believe, because the distance between the continents is giant, and thosefragile and unreliable at first glance boats seems to be no good for long-distance sailing. However, when you learn a little more about these seafaring Southeast Asian nomads, you start to believe even in the more amazing things...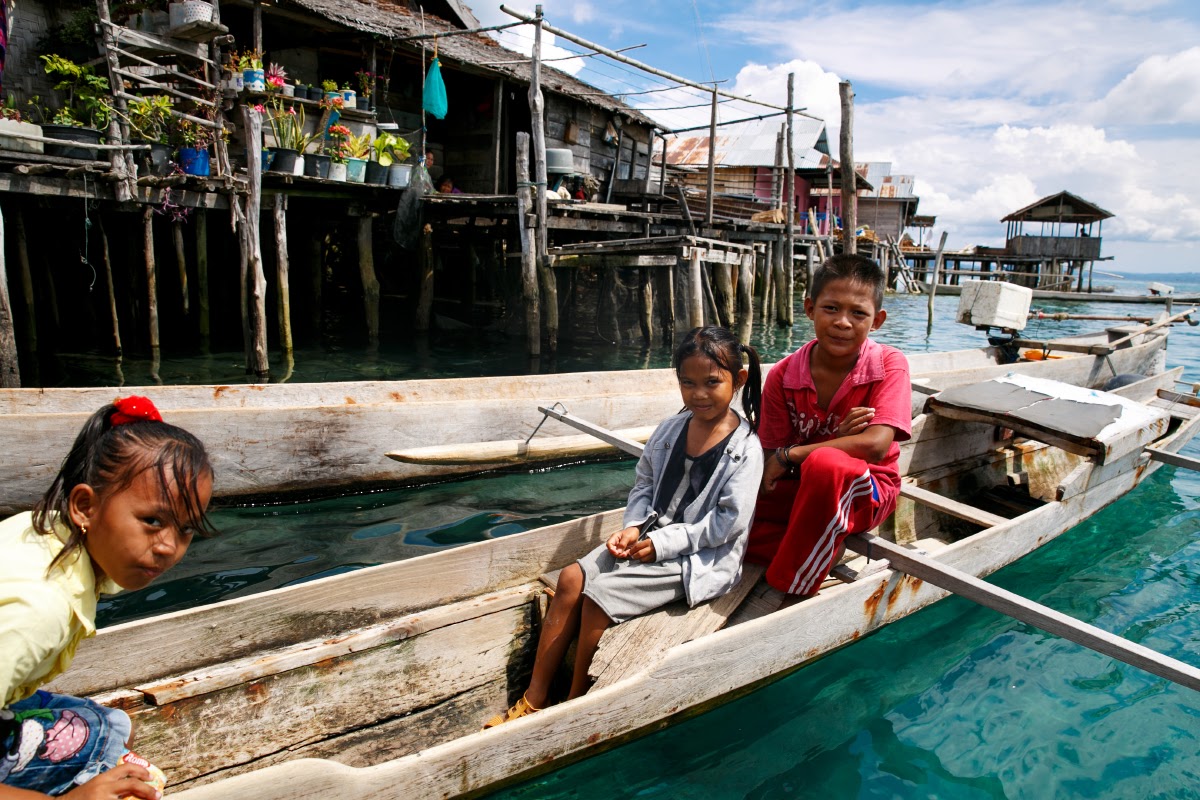 Photo iloveasia.travel
Several hundred years spent away from the coast, changed them both mentality and even physiology. They can hold their breath for 5-7 minutes and catch fish at a depth of more than 20 meters and their vision increasesmuch under water. Since the fishing is the main activity of the Bajau, even kidsare wonderful fishhunters. Reselling their catch to enterprises and large vessels, calculatedly, the ethnos provides significant amounts of seafood to inhabitants of Indonesia, Malaysia and the Philippines. Therefore, even though they are sometimes called poachers, their work can hardly be overestimated.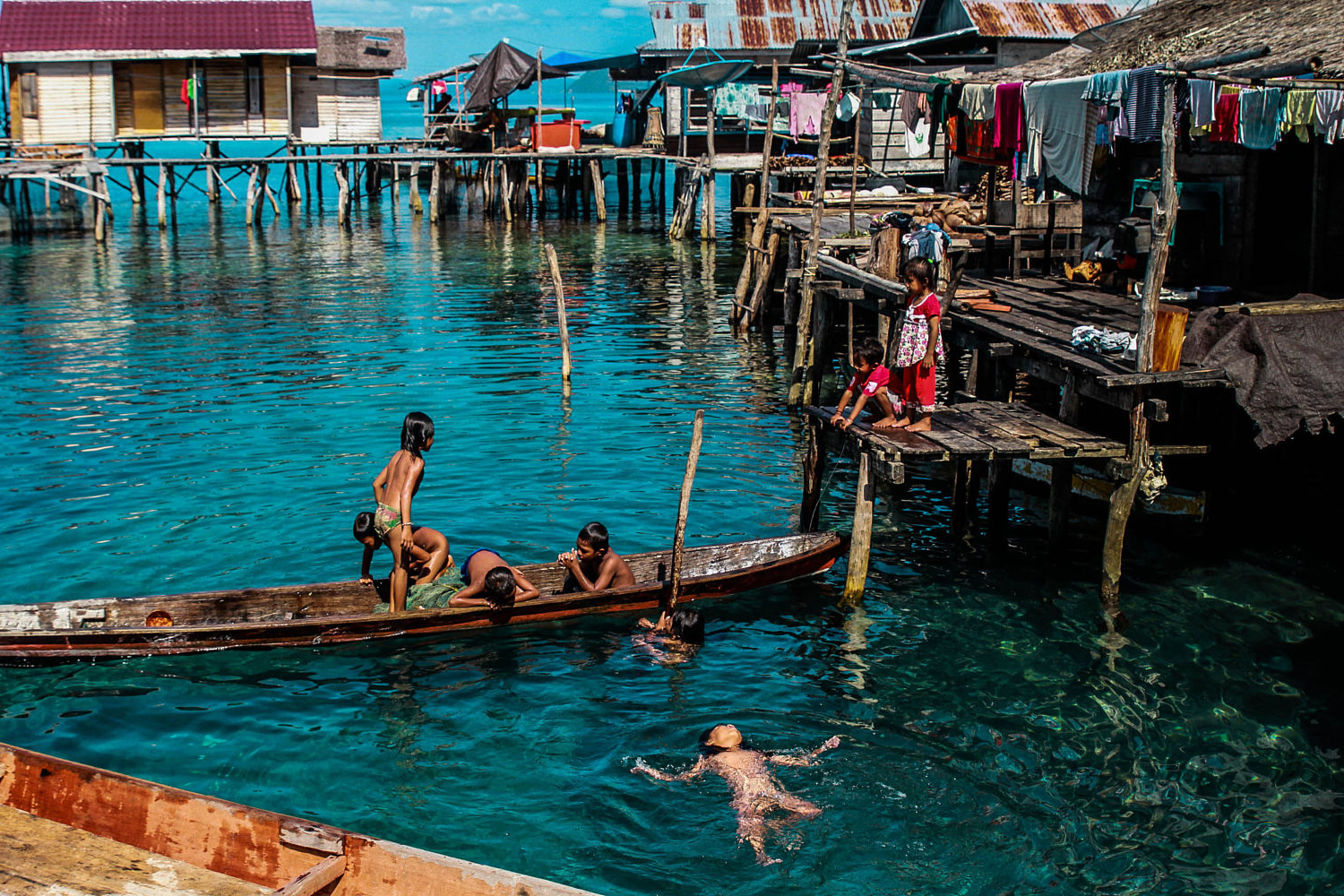 Photo iloveasia.travel
But sometimes due to lack of adequate equipment, the Bajau disrupt fish with dynamite, that their tribe learned in the years of the World War II, or poison the water with chemistry. It is a vicious circle, because the population falls, the reefs are decimated, and at the pace soon the whole tribe will be outside the law. Therefore, some representatives, overcoming themselves, become employees of the huge farms and corporations, and even migrate to the land. However, such cases are rare: the majority of the Bajau continue to fish either with hands or old-school methods, fewer for sale, but only to provide themselves with food.
After talking to them, you will be surprisedby their conception of life; it seems that their minds are pure, like water expanses of the region. What is a passport, how old they are, how to use the electronic devices – they only slightly smile at these questions. They don't have surnames, but always add to the name "son or daughter of…". The main judge, the prosecutor and the president for them is the headsmen, who is calledpanglima. At the same time,they are friendly and in spite of lifestyle remote from civilization, they are always friendly, happy to pose for the cameras, and invite to dive together. This, by the way, is not recommended as a health hazardous, since carried away, one cannotnotice how deepa dive is, and at the ascentone may have problems with pressure. The Bajau are not threatened, they even intentionally rupture their eardrums at an early age in order to facilitate diving and hunting at sea.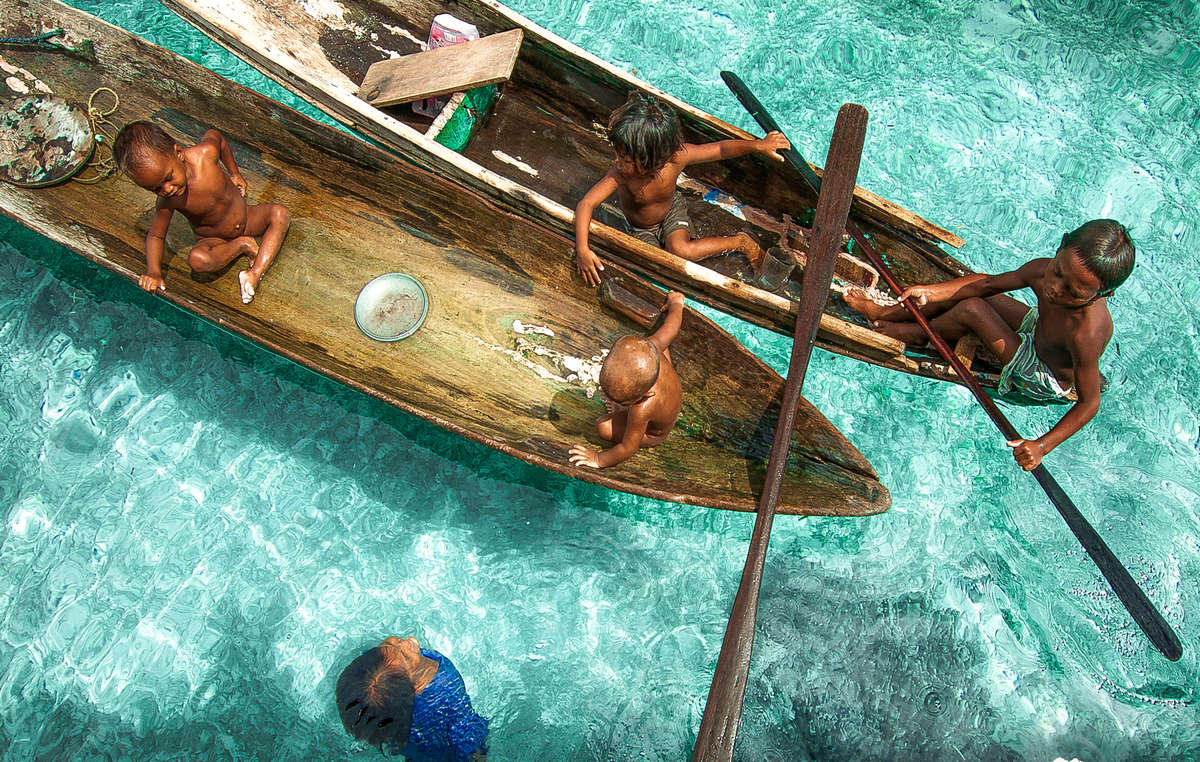 Photo survivalinternational.org
Often having problems with the law because of poaching, the services of a tribe are used by criminals, who for tiny fee engage nomads in the smuggling of alcohol, cigarettes and drugs, since divers are often elusive for border guards. In addition, maritime peopleare forced into the illegal production of pearls. Surprisingly, even those who are engaged in this craft professionally using special modern devices and sensors for the detection of pearls, recognize that the Bajauwork no less well relying on their own instincts and intuition. It seems that the water itself tells them where to dive.
To fence ethnos from illegal activities, the United Nations assisted in granting them special status of citizenship, which operates in Malaysia, Indonesia and the Philippines and licenses for fishing to a limited extent. Nevertheless,watching the Bajau,it seems that all of these legal acts and the laws for them are just incomprehensible paper, the meaning of which no one is going to study.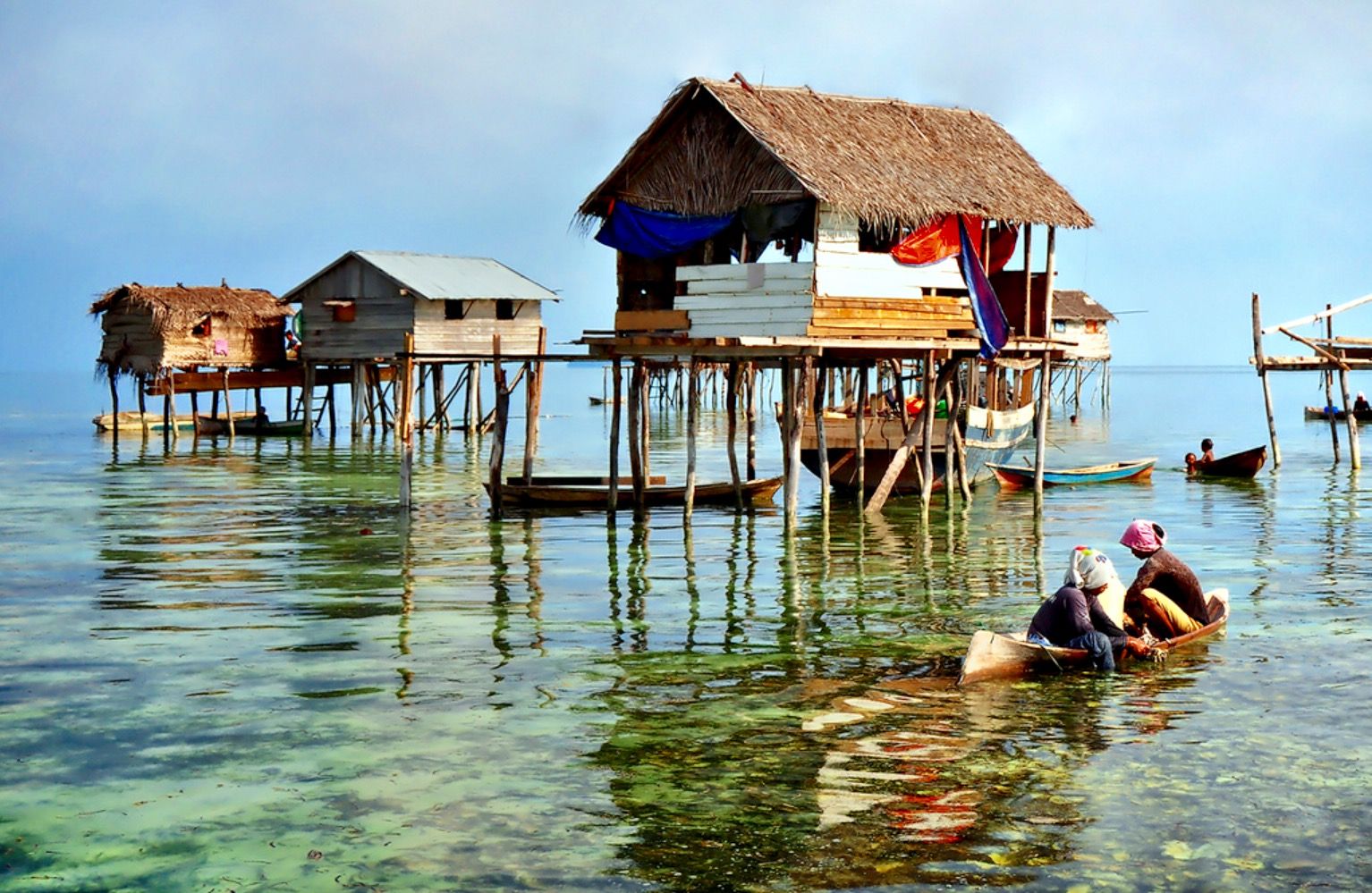 Photo pinterest.com
However, despite the various problems and not the most comfortableaquatic way of life, the Bajau do not complain. Theys consider themselves happy and independent people involved in what the soul desires. They do not imagine themselves to live in large cities, and even in villages. On lepa-lepasthey have everything they need: beds, fireplace, mini-gardens where women manage and grow vegetables and fruit. In the evening, joining several boats, they arrange festive dances, pray for their pagan gods, and look forward to tomorrow when once again it will be possible to dive deeper, and forgetting about everything, go fishing, harmoniously co-existing with the underwater world, which they enjoy much more than we enjoy our lifestylewith papers, documents and schedule of "work-home-work-holiday"...
Cover photo blog.tourism.gov.my