The ghost brush of miss Hokusai
The eccentric elder Katsushika Hokusai was the real star of the Edo period, the creative genius and the brutal debtor of the half of his city. He used at least 30 names, changed 93 houses and created a lot of prints, drawings and paintings. His internationally recognized print The Great Wave off Kanagawa is mesmerizing. But only a few people know that this block printing, as well as many other works, was created by Hokusai with assistance of his daughter - artist Katsushika Ōi, lost in time and overshadowed by her genius father crazy about art.
A woman wrapped in a mystery
The elusive Japanese lady left behind her more questions than answers. Much is known about life of "the Leonardo of the East", and the same little is information about his protégé and studio assistant. Even the date of her birth is discussed. Although most scientists still agreed on the fact that this event happened around 1800. Where, when? Unknown. But the fact that Ōi was no less eccentric than her father, is beyond doubt. She loved watching big fires, drinking sake and enjoyed pipe smoking (by the way, because of this addiction she even ruined a new picture when dropped ashes on it). Moreover, in addition to talent for the fine arts, the artist inherited her father's obstinate character and a complete lack of interest to the household. To put it mildly, she had unusual features for Edo girl, didn't she?
At the age of about twenty Katsushika married. Her choice Minamisawa Tomei was the shopkeeper who sold oils for hair, and was interested in painting. They studied ukiyo-e under the tutelage of Tsutsumi Torin. Nevertheless, it was not a long and happy union. Ōi found her spouse to be a comically poor artist and eventually divorced him thus returned to her former lifestyle. Tsuyuki Itza, late student of Hokusai, mentioned that Katsushika never remarried, and wanted to become enlightened woman.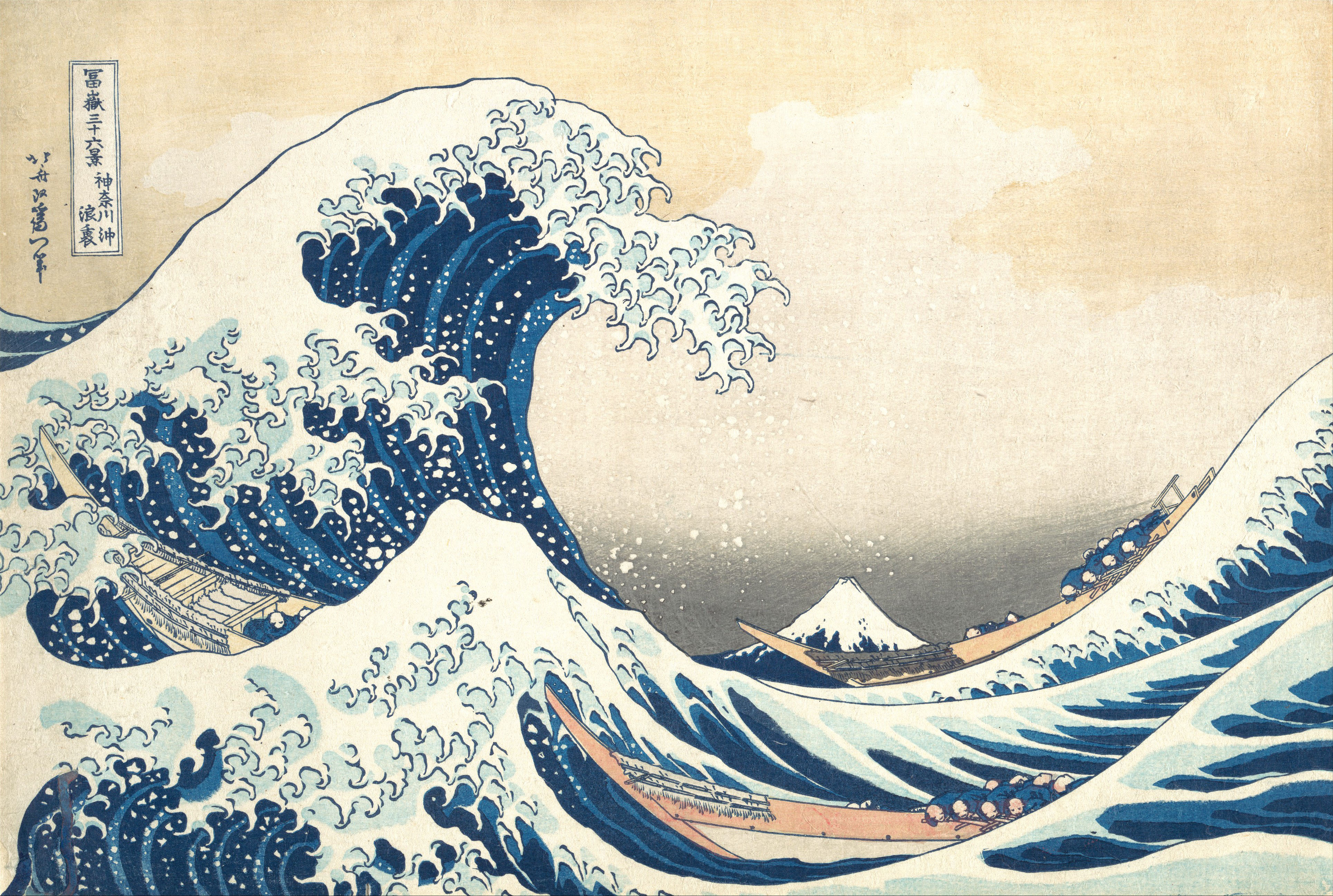 Photo images.metmuseum.or
The years that followed father and daughter worked together. They spent their days painting, never cleaned house and cooked but just buying food in the stalls and gradually transforming the place of their habitation in the landfill. Around 1842 - 43, one of Hokusai's students created an illustration of their studio. There were depicted the great master and Ōi leaning on a long tobacco pipe. This is the only existing portrait of hers.
The death of the artist is the same mysterious as her birth. Where, how and when it happened, is unknown. Except that you can imagine. Some sources mention 1866, that is 17 years after the death of Hokusai, yet another account indicates 1857. After burying her father, Katsushika moved and at first lived as a recluse whether in Asakusa or in Aoyama (the neighbourhood of Edo). And then she travelled around the country, somewhere out there she found an eternal resting place.
Moreover, not only the life of this unusual woman, but even her name is shrouded in mystery: "Ōi" is a nickname that she put on her works. There are multiple theories as to the origin of her name, and funniest of them says that Ōi, Ōi! (the Japanese equivalent of hey you) is exclamation which Hokusai constantly used to call his daughter. As for the real name of the artist, it is also not known. Some sources assert that her name was Omei, others claim for Oei.
A game of shadows
Together with her father Ōi worked for nearly a quarter-century painting "images of the changeable world" and attending various events. Hokusai was even convinced that she was far more talented in depicting women, then he was. Ōi is known to have excelled at handwriting and in bijin-ga, or paintings of beautiful women, she also coloured his spring pictures (erotic prints) and even created some of his most famous works. For instance, the Old Tiger in the Snow is one of the prime suspects for being really by Ōi. Graceful beast, sublime snowflakes and indescribable lightness in everything... At the time of painting Hokusai was over 80 years old, he suffered from partial paralysis and was hardly capable for such delicacy of lines and weightless of image. But handiwork of Ōi was famous for just that. Not surprisingly, many publishers, placing an order, were happy to accept works by both artists. Sometimes, specially preferring daughter's soft style to "an angry brush" of father. However, she may have been far more prolific than previously supposed, albeit working under another name: that of her own father. The final product was inevitably signed by the brand that was bestselling on the market - "Hokusai". Maybe this explains the amazing shortage of works with her signature: only two books of illustrations and 10 paintings. But they are truly amazing! The most famous works Yoshiwara Night Scene and Beauty of Spring Night are extremely attractive. The interplay of light and shadow, as well as light effects is a distinct style making paintings alive, breathing, mysterious, unconventional - as the artist herself.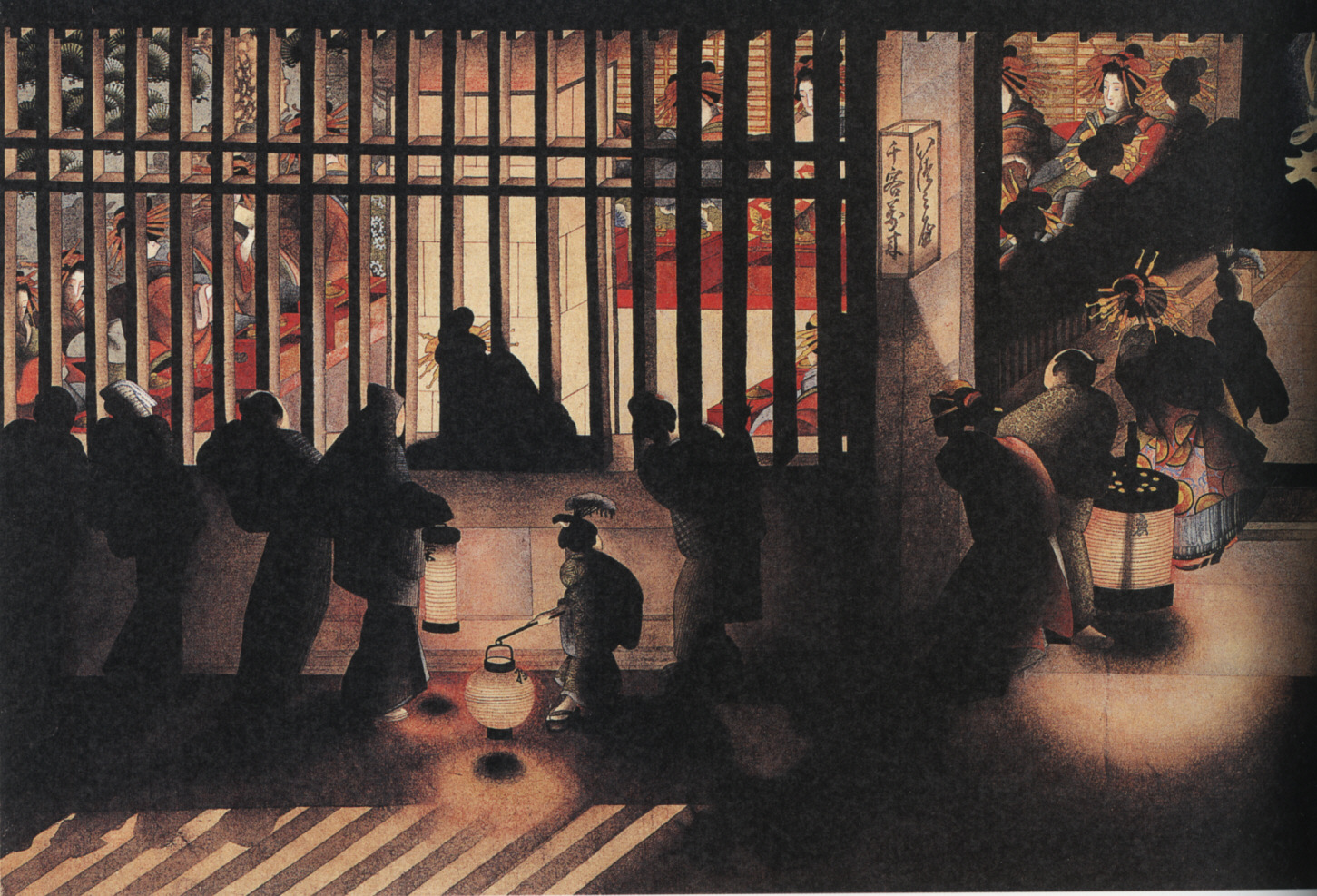 Photo tehne.com
Yoshiwara Night Scene shows people watching courtesans through the bars in the district of pleasure. While the Japanese ukiyo-e artists traditionally paint night compositions bright as day, Ōi introduces chiaroscuro and perspective, making them more real. At the same time, Beauty of Spring Night is not less innovative and more sensual picture. Lanterns light up the face and kimono of a woman, surrounded by fine silhouettes of pine trees and cherry blossoms and the sky is full of stars. Interestingly, they are not just white dots or circles (as typical at that time), but have blue and red pigments.
Some of her works are now in museums outside Japan. Boston engraving Three Women Playing Musical Instrumentsis made on silk. It portrays a courtesan, a geisha and a city lady who are playing koto, shamisen and kokyu respectively. A picture Operating on Guanyu's Arm is kept by the Cleveland Museum of Art. The gruesome tableau portrays the ancient Chinese general Guanyu. After being seriously wounded by an enemy's poisoned arrow, the legendary general calmly carries on with the game of go as a bespectacled physician slices into his outstretched arm in a bloodletting operation. This painting may largely boast the same attention to the light and shade that best works of Ōi.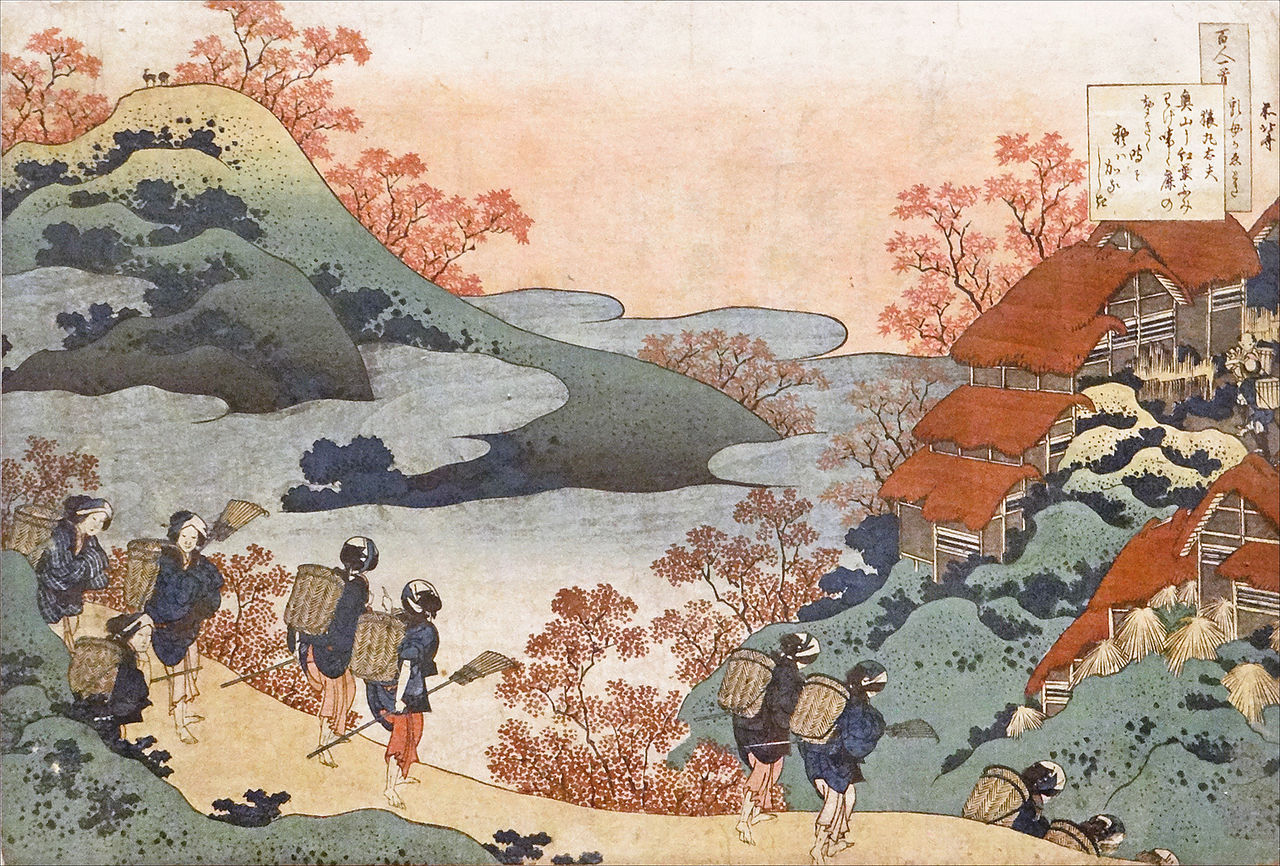 Photo tehne.com
Unfortunately, the art world is full of unjustly neglected masters. And Miss Hokusai is one of the brightest jewels in this casket. She was special, really unusual woman, especially for the Tokugawa era. Her eccentric nature, weird hobbies and distraction from all that does not apply to work, is surprising. Time has not been kind to the artist. Ōi remains a shadowy figure, but even a small amount of signed works that exists today, gives an indication of her outstanding talent and courage. And if you look closely, then who knows... Maybe we do not even know how really great is contribution of ghostly hand of Ōi into legacy of her father.
Cover photo oboi-colibri.ru