Morocco Day of Throne in Kyiv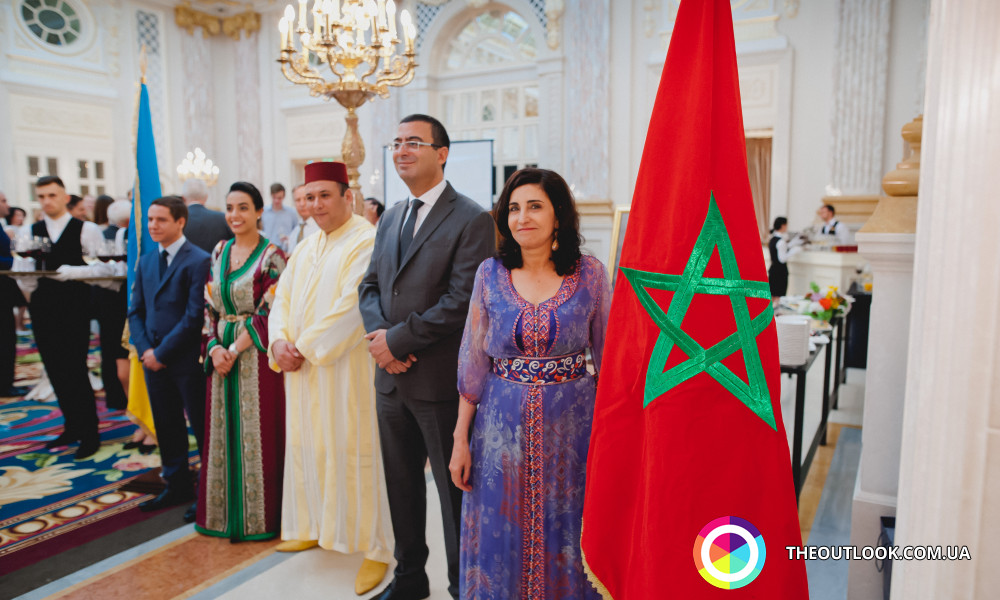 The Ambassador Extraordinary and Plenipotentiary of Morocco to Ukraine Mina Tounsi organized an official reception in honor of the national holiday. The Day of Throne is dedicated to the anniversary of King Mohammed VI coming on the throne.
So as to express the respect and congratulate the Head of mission with the national holiday her colleagues came, particularly, Ambassadors Extraordinary and Plenipotentiary of Algeria, Malaysia, Kuwait, Turkey, United Arab Emirates, Kazakhstan, Turkmenistan, Pakistan, South Africa Republic, Serbia, Saudi Arabia, Iraq, Mexico, Macedonia, Qatar, Poland, India, representatives of embassies of Egypt, Montenegro, Japan, Palestine, church, businessmen, social activists, and mass media.
Starting the holiday, Mrs Tounsi gratified all the guests for the visit and congratulations. 'The celebration of our national day is coincident with the 25-th anniversary of diplomatic relations between our countries. It is pleasant that Ukraine and Morocco have friendly and prolific bilateral relations', the Ambassador emphasized.
In her official speech she also told that the stated holiday is dedicated to the renewal of trust of Morocco citizens to the great symbol of the unity in the country. 'The Day of Throne is the prominent moment in a life of Morocco nation, it is dedicated to the supremacy of achievements which could be reached during the last years and making ways in the future to even higher achievements', told Mrs Tounsi.
Since 1999, the Day of Throne in Morocco is celebrated on the 30-th of July, this holiday is dedicated to the raising on the throne of King Mohammed VI. The royal family of Morocco belongs to the dynasty of Alawites dynasty created by Mulai Rashid ibn Sherif who called himself as the sultan in 1666 and in such a way ended the dynasty of Saadi.
The Day of Throne was established after independence of Morocco when in the country the title of sultan was demolished and instead the title of king was introduced. In a period of ruling of King Mohammad V (till 1961) the holiday was celebrated on the 18-th of November, during the ruling of Hasan II (since 1961 till 1999) on the 3-rd of March and after the raising on the throne of Mohammed VI the date of holiday was postponed to the 30-th of July.
Actually, Mohammed VI became a king of Morocco on the 23-rd of July 1999, in the day of death of his father Hasan II. However, the official ceremony of enthronization (exaltation on the throne) happened one week after, on the 30-th of July. This date is celebrated now in Morocco as the Day of Throne.