The Embassy of Sweden in Ukraine celebrated Saint Lucia Day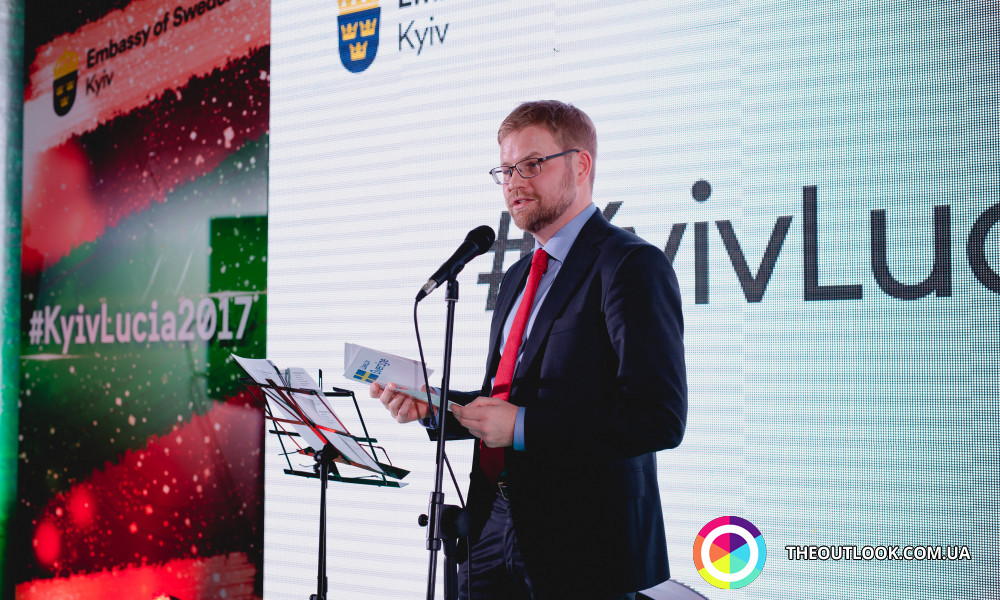 On the 13-th of December in Kyiv some traditional Swiss holiday, Saint Lucia Day, was celebrated.
The Ambassador Extraordinary and Plenipotentiary of Sweden to Ukraine Martin Hagstriom greeted everybody and congratulated with this holiday. As well, he told about the history of this date. It is considered as the unique Swiss tradition as nowhere else is it celebrated in such an ambitious manner.
The celebration welcomed the Heads of diplomatic missions from such countries embedded in Ukraine as Azerbaijan, Canada, Finland, Croatia, Slovenia, etc.
It is said that night of Saint Lucia day is the longest in the year. Such an opinion was put forward in times when in Sweden people used Julian calendar. The 13-th December was marked with the day of winter conjunction. When in 1753 the country switched to Gregorian calendar, the conjunction was moved to the 21-st of December, but night of Saint Lucia kept its meaning of the longest and darkest one. Since the time of Medieval Ages in Sweden the great holidays have been organized. Sweden Lucia has several guises. One of them represents a little girl dressed like an angel who gives presents. It is often depicted in the wreath with candles.
Only in the XX century the holiday got its current look. Today Lucia wears long white dress with red silk belt with the five-candle crown on her head. She brings coffee and special buns with saffron called luccecatter. In Sweden the holiday is celebrated in schools, kindergartens, and different organizations.
The photos from the event are in our gallery: