Ambassador of the Kingdom of Morocco in Ukraine Ms. Mina Tunsi welcomes guests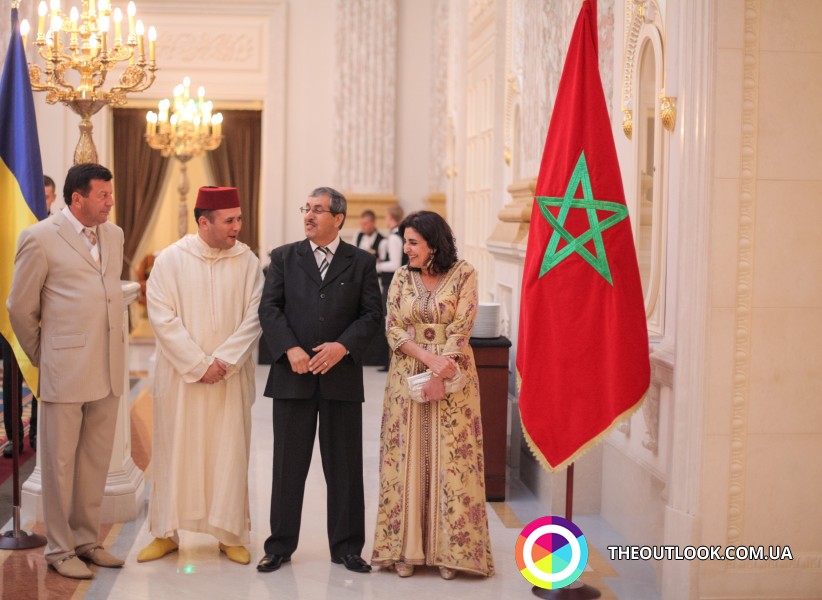 Traditionally foreign diplomatic representatives celebrate their national days in Ukraine by organizing annual diplomatic receptions.
To shake hand and express sincere congratulations to the Ambassador Extraordinary and Plenipotentiary of the Kingdom of Morocco in Ukraine Ms. Mina Tunsi came a lot of colleagues from the diplomatic corps, representatives of governmental organizations, friends and partners.
Yesterday, together with the Embassy of the Kingdom of Morocco in Ukraine OUTLOOK celebrated Throne Day .
July 30 is a special date in the life of Moroccans. That day in 1999 acting governor - Mohammed VI was crowned. He became king of Dynasty 23 Alawite - a dynasty that has been in power since 1666. Lush celebrations are held in the capital Rabat. Across the country, military parades are held, festive music sounds everywhere.
Monarch deliever to the citizens of his state a welcoming speech. This festival is a true symbol of the unity of the kingdom.
And now a few words about the Moroccan king. Mohamed VI was born August 21, 1963 in Rabat. His father was one of the most respected politicians of the African continent - King Hassan II, and his mother Lala Latifa was from a noble Berber family.
At the age of four he began studying at the Koranic school, higher legal education he started at home, and continued in France, where he got his doctor degree. He trained in Brussels. King knows four languages and is a true lover of sports, especially golf and bodybuilding.
In 2011, on the initiative of King Mohammed VI constitutional reform was held in the country, under which expanded the powers of Parliament and Prime Minister. Key role in the defense, security and religion remained for the monarch.
Mohammed VI has two children, among them is the future heir to the throne.
How was the celebration of the royal throne of Morocco in Kiev look at our photo gallery: