Embassy of Mexico greets guests in honour of National Day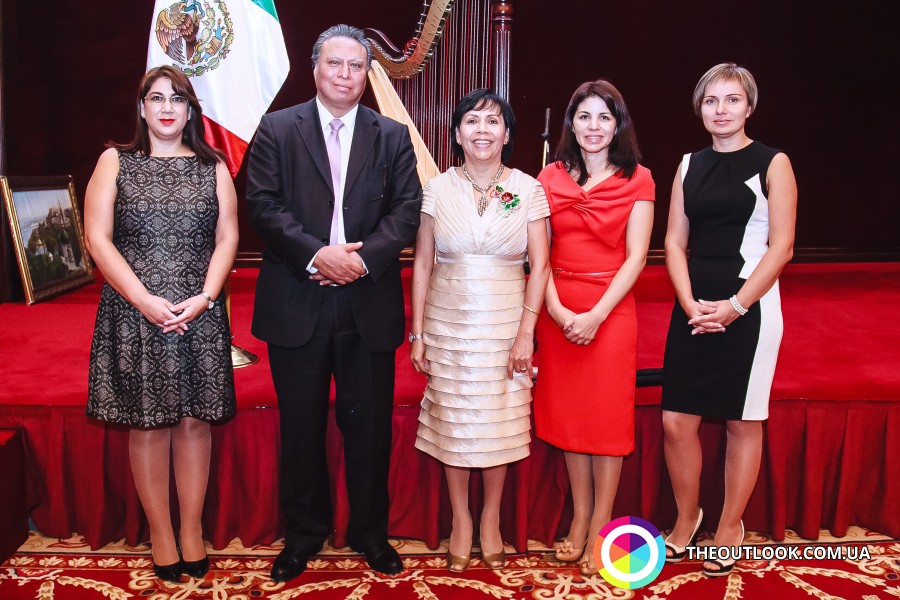 On the 16-th of September, Mexico celebrated Independence Day. In honour of holiday, Embassy of Mexico in Ukraine arranged diplomatic reception. Extraordinary and Authorized Embassadors of Argentina, Belorus, Irak, Moldova, Pakistan, Switzerland, and many others gathered in order to celebrate the Main State holiday together with representatives of the country.
Before announcement of independence, Mexico was a colony of Spain. When in the 19-th century Spain was occupied by the French, Mexico immediately became French belonging. Local citizens relucted against oppression. The main ideologist of liberation struggle was priest Hidalgo: it was him who gave the alarm calling to start rebellion in the morning of the 16-th of September, 1810 .
In total, struggle for independence of Mexico had been lasting for 11 years, and finished to the good of the Mexicans. On the 29-th of September, 1821, Mexico announced its independence officially, however, in the holiday calendar of the country Independence Day is celebrated as the anniversary of rebellion's beginning, not the end.
Nowadays every year overnight into the 16-th of September on the central city squares of Mexico there are performances which highlight the history of struggle of the Mexicans for independence. On the corners of buildings, houses and cars national flags shine. In this special evening the main square of Mexico city gathers the Mexicans in national costumes from all quarters of megalopolis (men wear «churro», and women dress «china poblana»).
In Kiev the event coincided with the Ending of Mission of Extraordinary and Authorized Embassador of Mexico in Ukraine Berenice Rendon Talavera.
Signora Talavera was appointed to the position of Embassador of Mexico in Ukraine in September, 2009. During her work in Ukraine, Berenice Rendon Talavera established strong diplomatic, cultural, and social connections between both countries. Embassy of Mexico in Ukraine repeatedly arranges different events: exhibitions, literary festivals, and cultural days.
Editorial board of internet-edition about the world THEOUTLOOK.COM.UA wishes to signora Talavera good luck in diplomatic scope and expresses profound gratitude for and effective collaboration.
You may see photo report from the event in our gallery