ALLES WALTZER! - EVERYBODY DANCE! AN INTERVIEW WITH DANCE SOMMELIER IVAN PAVLOV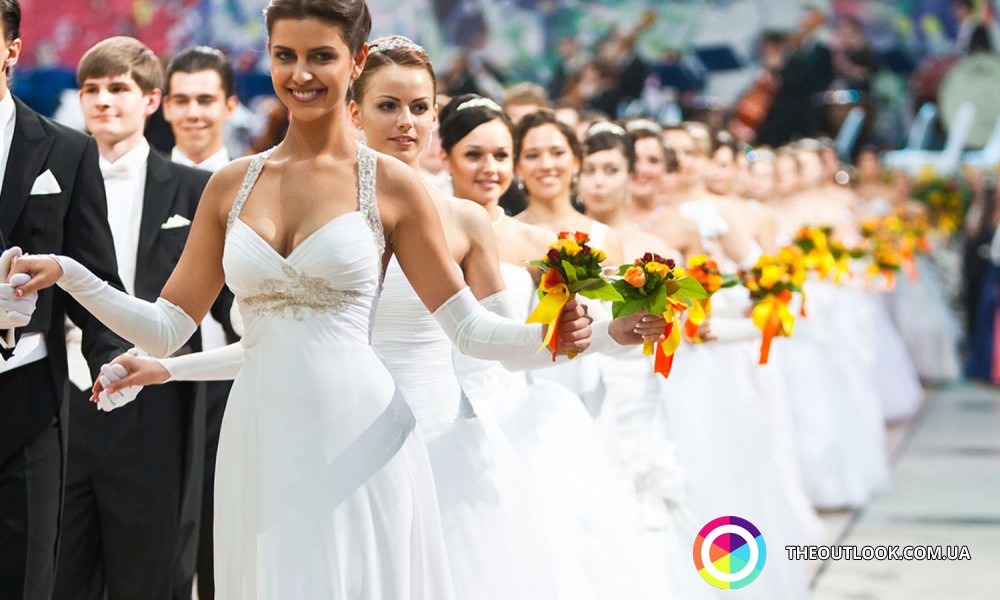 Throughout winter, fabulous Vienna hosts balls season. As a guest or dancer, you can enjoy ball party in many cities, including Ukrainian ones, though the best choice is the capital of Austria – Vienna. Why it is so, and how to make a few pas towards one of the most spectacular events of the world, the OUTLOOK interviewed the only Ukraine dance sommelier Ivan Pavlov.
Dancing has been in my life since I was 7 years old. My mather took me to dance lessons. It was in the town of Avdeevka near Donetsk city. I was dancing with this group for 10 years, then I went to conquer the capital, was building my career with serious company engaged into business advising, and dancing gradually disappeared from my life. However, having completed another contract, I realized that I had to turn my hobby into my business. Thus was born the Dance Sommelier project.
It was the dream of my life to participate at the Vienna Ball. Four years ago, I accidentally hit the ball in Kiev where I opened it as a debutant. Moscow and Vienna followed.
"Sommelier" means "tasting" of dance. The target audience of my project is adults who have never danced, or were doing it in early childhood only and forgot everything long ago. I help people learn different movements, mostly typical for ballroom dance, but then I help the client with dance matching his or her temperament. Abroad there is such a thing as a "taxi dancer", that is a professional dance-partnering escorts who attends parties for a fee.
As celebration of certain format, the Vienna Ball is more than 200 years old. It is a culture of the Austrians, which originated among ordinary people. Initially, waltz was a folk dance in Austria, but eventually nobility learned it and started organizing magnificent balls, which by tradition always were held in winter, during the popular carnival - Faschingszeit. The high season runs from mid-November till the end of February, it includes about 200 dance parties.
All the Vienna balls are subject to a certain hierarchy of prestige, fame, scale. There parties with 500 guests, and there are big parties such as the famous New Year Ball in Le Grand the Hofburg attended by more than 2 000 people each year. It can be compared with the legendary Vienna Opera Ball, which takes place in mid-February. One of the most famous is the so-called the Life Ball, which collects "the powers that be" guests in ball room. Traditionally, all of the funds raised at this evening, go to the charity.
For the Viennese, a ball is a must visit at least once a year. Generally, at the ball in Vienna you can meet people from various countries, not only from Europe. However, more than half of participants of each ball is still the locals. It is their culture, their leisure time.
Everyone organizes the balls in Austria: journalists, writers, lawyers, and even hunters. For instance, writers for over 150 years have been gathering in the Vienna Town Hall for the Concordia Ball. Since Vienna and coffee are indivisible, there is an atmospheric Coffee-house Owners' Ball. Attending these events, experts relax, dance, and discuss business.
There is no intellectual property right for the name of "Viennese Ball", so it is conducted in other countries. This is a format of the event, which has its own specific criteria and rules of conduct. Nevertheless, since this is an authentic tradition of the Austrians, then, of course, to experience all the beauty of the ball, you need to go to Vienna first. And then, if interested, visit other cities.
Vienna Ball is like a military parade that has a certain ceremony and sequence of actions. There shall be a master of ceremony who administrates the event. Guests come, meet each other, drink some welcome drink, and get ready to dance at night. The evening usually opens at 8-9 p.m. when first-time ball attendees start with the Polonaise. For young girls many years ago it was considered as the first presentation. Therefore, for the opening of the event organizers still prefer unmarried ladies.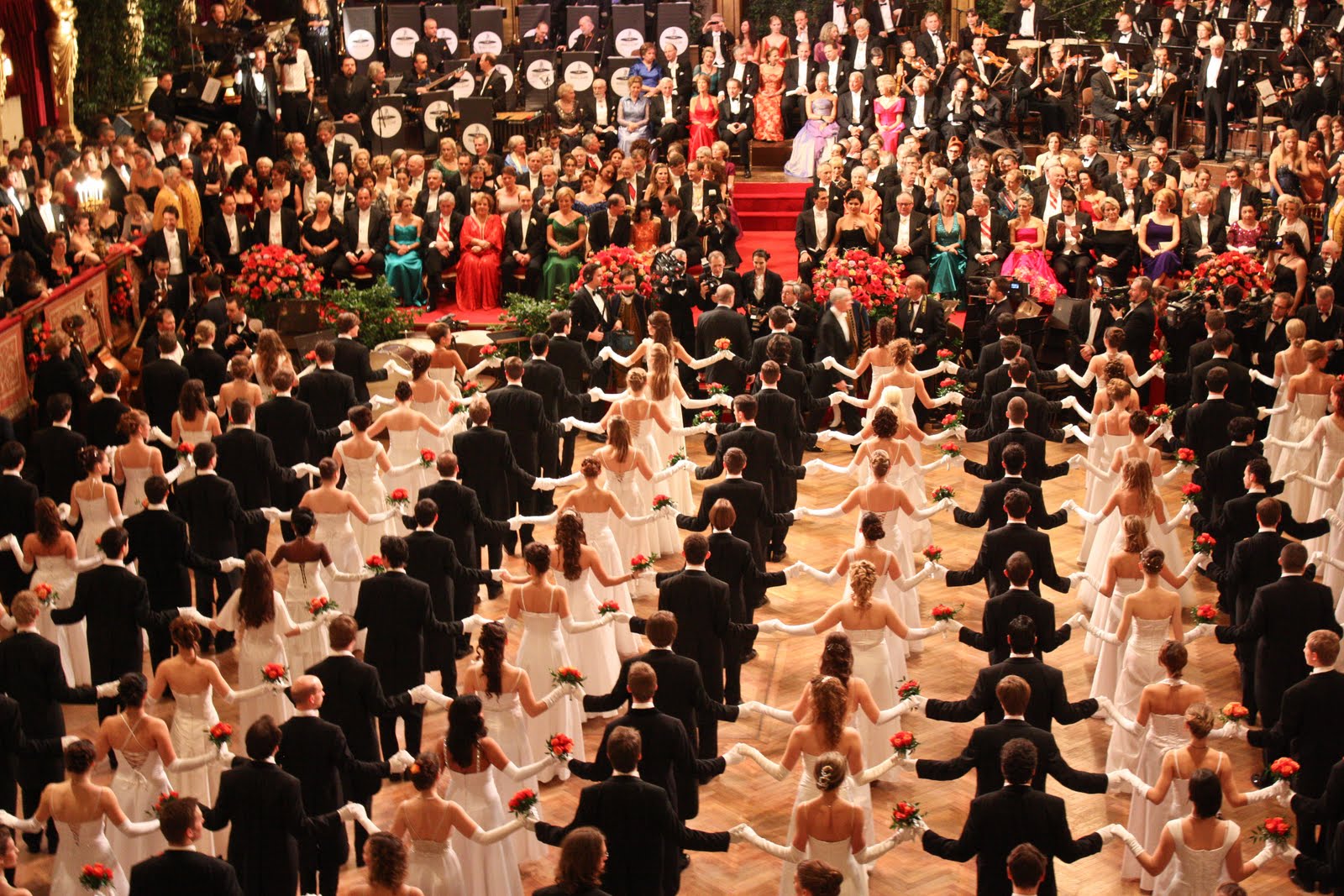 Another old tradition of ball art is midnight performance. At midnight, the master of ceremony announces the quadrille, which is performed by hundreds of dancers together. According to the rules, a ball shall last until the morning.
There are two ways how to get to the ball in Vienna: to be a debutant dancer, or just a guest. Both variants are practically simple. For the first option, firstly, you have be an unmarried girl under the age of 25 years, and to contact the Ball Committee. There you will be offered to fill in the questionnaire and to send your picture. Then the organizers are to decide. As you know, the main criterion for selection is presentable appearance. The same scenario applies for young men.
If the answer is positive, then you need to prove that you can dance. For this, applicant attends special classes and learns Viennese waltz. Video recording of the applicant's performance should be sent to the Ball Committee. If you dance well and video confirms it, basically, they cannot say no to you, but if there are many applicants for the ball, they may offer you to participate next year.
Viennese Waltz is not difficult to learn. There are just a few figures - right turn, left turn, "top" or simply a whirling, and the so-called change of right turn to the left and vice versa. Its specific feature is rather quick rhythm. If to waltz for 20 seconds, for instance, it is one thing. However, if you want to be in motion for 2-3 minutes, then it becomes a serious physical task. To dance the Viennese waltz with confidence and not get dizzy, you still need a lot of training.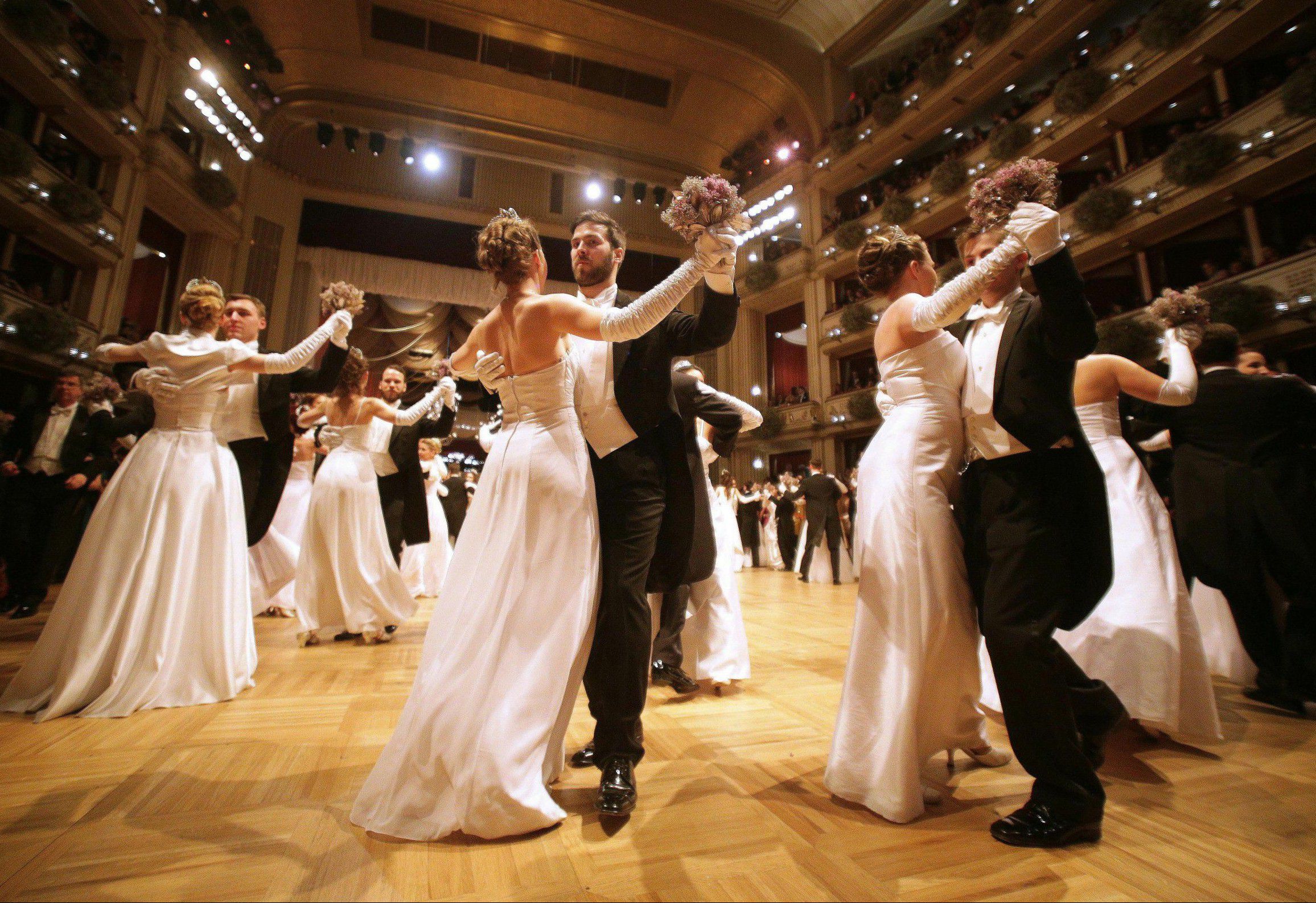 Newcomers, who studied dance from scratch, went to Vienna waltz with me. The ability of a person to dance are very individual. Some people need just a few sessions, and someone needs six months. I usually offer a standard option that is 10 lessons 1.5 hours each. Then a person makes a decision to either continue or quit. As a teacher, of course, I also assess if we are doing well.
Before the ball, everyone must visit a dress rehearsal. This means that you have to arrive to Vienna in advance, stay in the hotel and be sure to attend the general run two or three days up to the ball. Strict experts once again will check your ability to dance. If something is wrong, they can tell you: sorry, you do not participate.
In Vienna, in contrast to other cities, debutantes at the ball do not pay for their participation. A little bit different, for instance, it is in Moscow where debutantes, as well as guests, should contribute some arrangement fee for dress rehearsals take place in comfort.
Some funny situations constantly happen at balls. For instance, ladies sometimes loose some details of dresses. Dancing the waltz, a girl may lose her petticoat. Someone stumbles, slips, and even falls down. It almost does not happen with first-time attendees, because they are not offered to perform any difficult compositions, as professionals.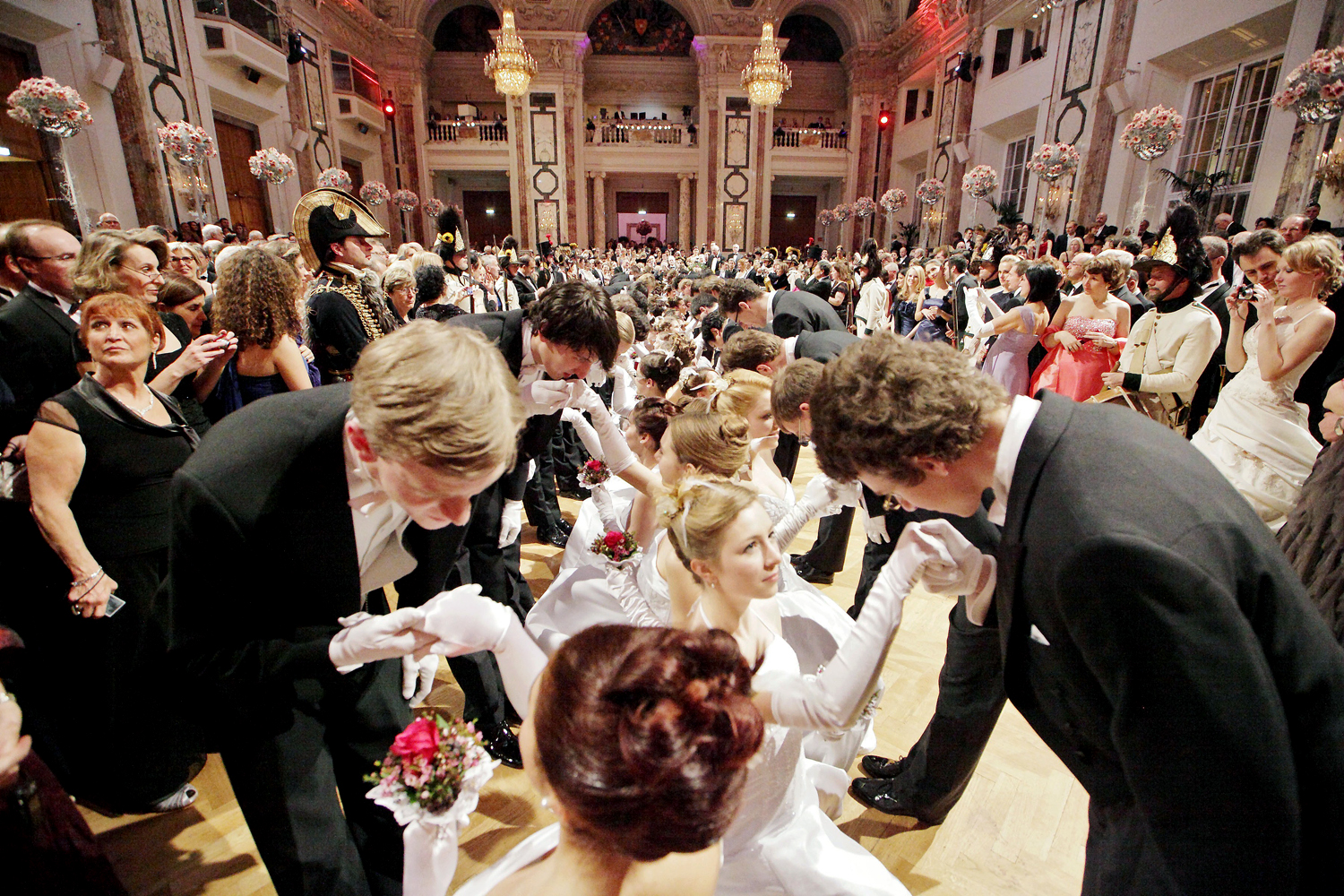 You can get onto the ball with admission ticket. Having a ticket, you do not need any questionnaires. All you need is to choose a suitable date, format, value, theme of event, and buy a ticket. Admission fee differs depending on whether it will be tickets for admission to venue, or tickets for tables or sometimes gala dinners. Now price ranges from 90-100 Euros. The Lodge at the Vienna State Opera is a VIP place, so it can cost 3 000 Euros. The invitation will indicate whether drinks and snacks are included in the price of your ticket, or you will have to buy them on spot.
Mandatory requirement is compliance with the dress code. For girls debutantes it is a white dress, as a rule, traditional ball gown. Obligatory are gloves, high hairdo showing neck and a diadem. Gentlemen can wear a black suit with an obligatory bow-tie. Options are a tailcoat, tuxedo, parade military uniform if a debutante is the military. Historical outfits are also valid.
How to get to Vienna Ball? Tourists who have settled near the venue can walk there. Vienna residents generally prefer to go by public transport, in order to show off fancy costumes. You can take a taxi, and some people prefer to take a carriage and drive up to the opera.
Alles Waltzer! Everybody dance! Only after these words of the master of ceremony, guests can go out to the dance floor and the ball begins. After the dance session, a cultural program starts which usually features performances of opera singers. Then begins the dancing kaleidoscope, offering enjoyable dancing for every taste including Latin America dances. No one will force you to dance, you can chat or watch. But I have never seen empty dance floor in Vienna.
Regulations of Vienna Ball is still strict. If you invite a lady to waltz, after dance you are obliged to walk her to the place where she sits. If you want to dance with the girl you liked, you first have to ask permission from her boyfriend. During the dance, a man shall lead, and look around not to collide with other couples. One should be gallant, polite, it is not acceptable to talk loudly or laugh, move quickly, or heaven forbid, to run across the ballroom.
I would compare the ball night with a fairy tale. The atmosphere created at this event well contributes to fairy tale impression. Enjoying the ball, a participant is able to switch from everyday problems. The emotions of happiness, pleasure and joy. At the ball, attendees feel like real princes and princesses.