Exhibition "Egyptian Vision" was opened by the Ambassador of Egypt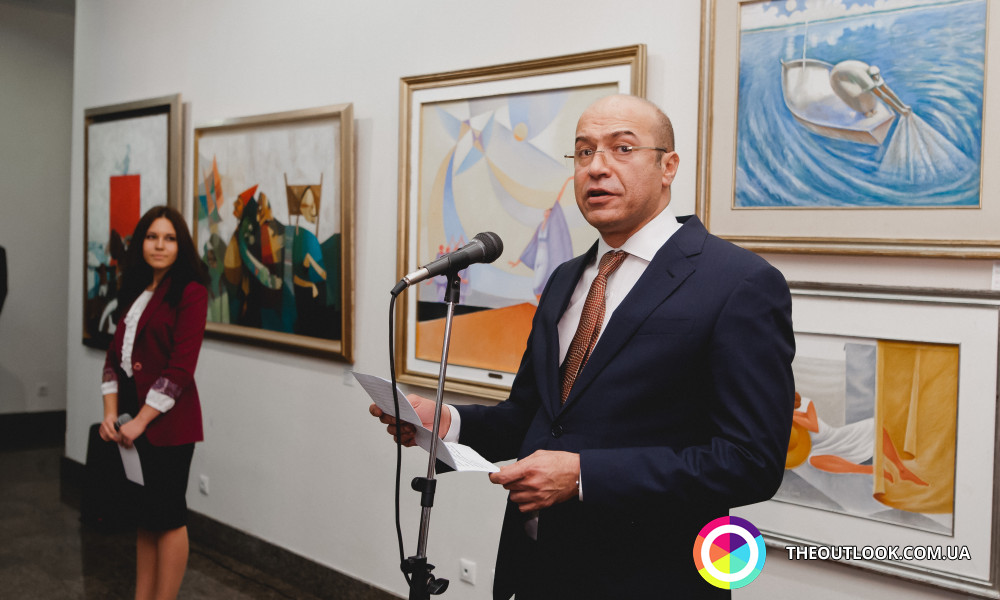 On April 3 the exhibition of the contemporary visual art "Egyptian Vision" was opened by the Ambassador of Egypt at the Kyiv History Museum. The exhibition is dedicated to 25th anniversary of diplomatic relations between Egypt and Ukraine.
The exhibition puts on display, for the first time ever in Kyiv, a select collection of paintings by prominent Egyptian scholars of the fine arts, such as Mounir Eskandar, Gerguis Lotfy, Gamil Shafik, Hassan Abd El-fatah, Sayed Saad Eddin, Kariem Abd El Malak, Hassan Rashed and others.
The official opening of the event was attended by many Ambassadors, including those of Algeria, Sudan, Palestine, Kuwait, Syria, UAE, Pakistan, Malaysia, Brazil, diplomats accredited in Kyiv, Ukrainian officials, representatives of Egyptian diaspora in Ukraine, civil society, scholars, artists and media.
As the Ambassador mentioned in his welcoming remarks, the artworks were carefully chosen suchwise to expose to Ukrainian visitors the rich representation of Egyptian contemporary visual art and allow them to dive into magical artistic world, embodying Egyptian traditions, culture and beliefs. The Ambassador expressed his wish that Ukrainians who regularly travel to Egypt for tourism on its beaches and visits to its historical sites, will make sure that next time they are in Egypt to visit art museums in Cairo and elsewhere in the country.
The Exhibition depicts scenes of rich and unique oriental culture, describing on the canvas Egyptian vision of the beauty of human creativity and achievements, accumulated by the centuries of Egyptian art history. The Ambassador expressed hope that the presented art works of "Egyptian Vision" will represent one more bridge in promoting understanding between the friendly people of the two countries.
Further enriching the Egyptian cultural evening, the opening reception included performance of Nubian and Saidi dances, typically from the South of Egypt.
The Exhibition will last till April 23rd. Entrance is free.