The Ambassador of Malaysia to Ukraine Dato' Raja Reza Raja Zaib held a diplomatic reception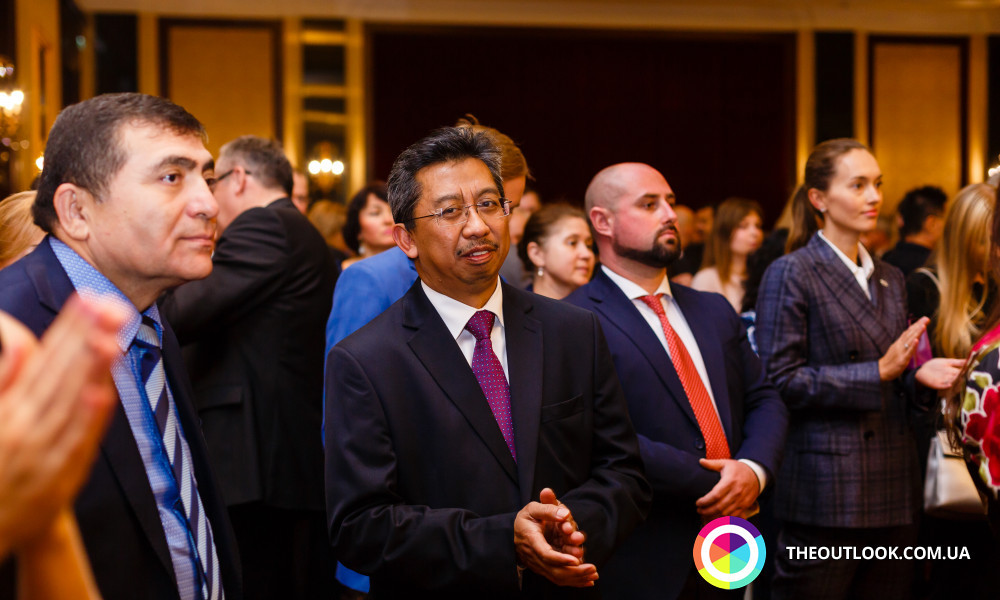 A diplomatic reception was held in the capital of Ukraine to commemorate National day of Malaysia. The Ambassador Extraordinary and Plenipotentiary of Malaysia to Ukraine H.E. Dato' Raja Reza Raja Zaib Shah received the guests.
Malaysians celebrate the national holiday annually, starting in 1957. If you pore over history, 62 years ago, on August 31, 1957, the Malayan Federation, consisting of 11 states, gained independence from the British Empire. While Malaysia Day marks the unification of 11 states on the peninsula and two states in the East, Sabah and Sarawak, into an independent and sovereign nation - thus giving rise to a country known to the modern world as Malaysia.
The event was attended by Extraordinary and Plenipotentiary Ambassadors of Kazakhstan, Belgium, Turkey, Iran, Indonesia, Kyrgyzstan, Iraq, Libya, Azerbaijan and other diplomats, officials, members of the civil sector, and the media.
In a welcoming speech, the Ambassador of Malaysia noted:
"I have the great honour to warmly welcome all of you to the 62nd National Day of Malaysia reception. This reception is a double celebration as it also signifies the commemoration of the 56th Malaysia Day.
As a background, 62 years ago, on 31st August 1957, the Federation of Malaya consisted of 11 states gained independence from the British Empire. Whereas, Malaysia Day marks the coming together of the 11 states in the peninsula and the 2 states in the east, Sabah and Sarawak to form one independent and sovereign nation – thus giving birth to the country known as Malaysia.
Malaysia witnessed the first ever change of government after 61 years following the outcome of the 14th General Elections on 9 May 2018. The peaceful transition of power has proven that Malaysia's democracy culture has matured. The new government spearheaded by Prime Minister Tun Dr. Mahathir Mohamad, places great emphasis on the rule of law; freedom of expression; good governance, combating corruption and progressive fiscal reforms.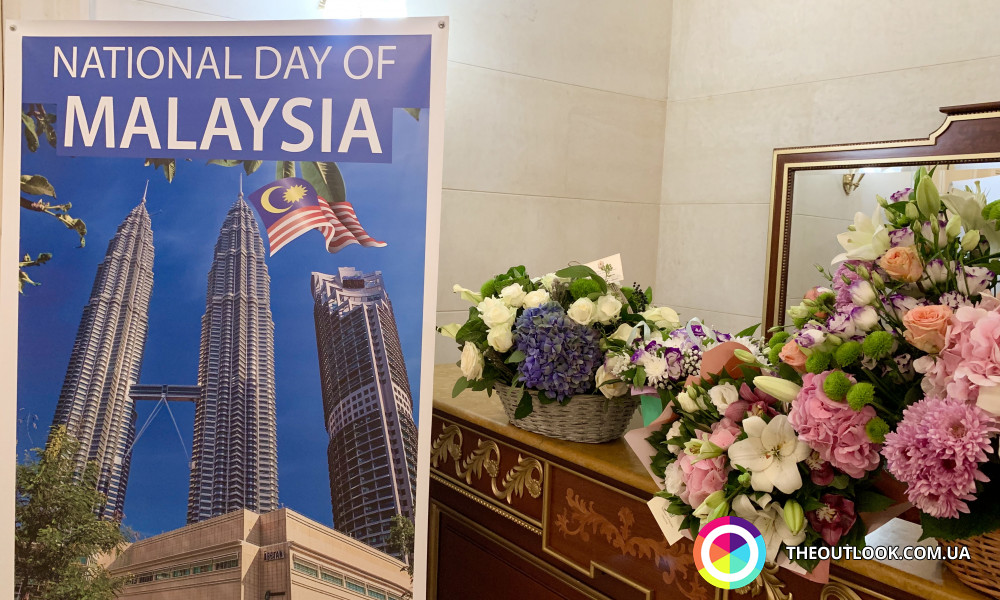 As regards to Malaysia's foreign policy, we will continue to be independent, pragmatic and guided on principles of inclusiveness, good governance, freedom, human rights and sustainable development. In short, the "new Malaysia's" foreign policy is a continuation of our long standing core principles such as neutrality and non-interference. We will continue to uphold values such as peaceful settlement, diplomatic negotiations and mediations as tools in resolving conflicts.
Diplomatic relations between Malaysia and Ukraine was established on 3 March 1992. Malaysia was among the first countries to recognise the independence of Ukraine. The Government of Malaysia opened its embassy in Kyiv in September 2004. Since then, Malaysia and Ukraine enjoy warm and cordial relations. In fact, Malaysia-Ukraine ties have grown closer in the aftermath of the MH17 tragedy on 17 July 2014.
I wish to underline that Malaysia is unwavering and continues to support Ukraine's sovereignty and territorial integrity. Allow me to recall that Malaysia had supported the United Nations General Assembly's Resolution 68/262 on territorial integrity of Ukraine adopted by the UNGA on 27 March 2014. I was personally present during the voting and adoption of this resolution in my capacity as the Deputy Permanent Representative of Malaysia to the United Nations at that time. Malaysia remains concern with the on-going conflict and the humanitarian situation in eastern Ukraine that has claimed more than 13,000 innocent lives, injured thousands and displaced 1.5 million people. We hope that the Ukrainian new government and all parties involved would adhere to the Minsk Agreement and intensify efforts to negotiate and resolve the conflict peacefully.
In 2019, Ukraine experienced an unprecedented change in the political landscape. The election of President Volodymyr Zelensky as the new Ukrainian President and the formation of a new government, heralds a new dawn for Ukraine. Malaysia applauds the Ukrainian people for the successful presidential and parliamentary elections that saw a very peaceful transition of power.
According to the Global Competitiveness Report 2018, the Malaysian economy is the 25th most competitive country in the world in the period of 2018–2019, as we pave the way to become a developed nation by year 2020. Malaysia saw a 48 per cent jump in foreign direct investments to RM80.5 billion in 2018, compared with RM54.4 billion in 2017 reflecting investor confidence in Malaysia's economic health. Furthermore, Malaysia was ranked 19th among 190 economies worldwide in the World Bank's Doing Business 2019 Report, which based its rankings on business regulations and ease of going business.
I am extremely pleased that the bilateral political consultation between Malaysia and Ukraine will be held in Malaysia. The Ukrainian delegation will be led by the Deputy Foreign Minister. Malaysia looks forward positively to continuing discussions to reinforce our bilateral cooperation in areas including trade and investment, tourism, education, defence, aerospace, aviation and tap into new opportunities for further collaboration in other potential areas.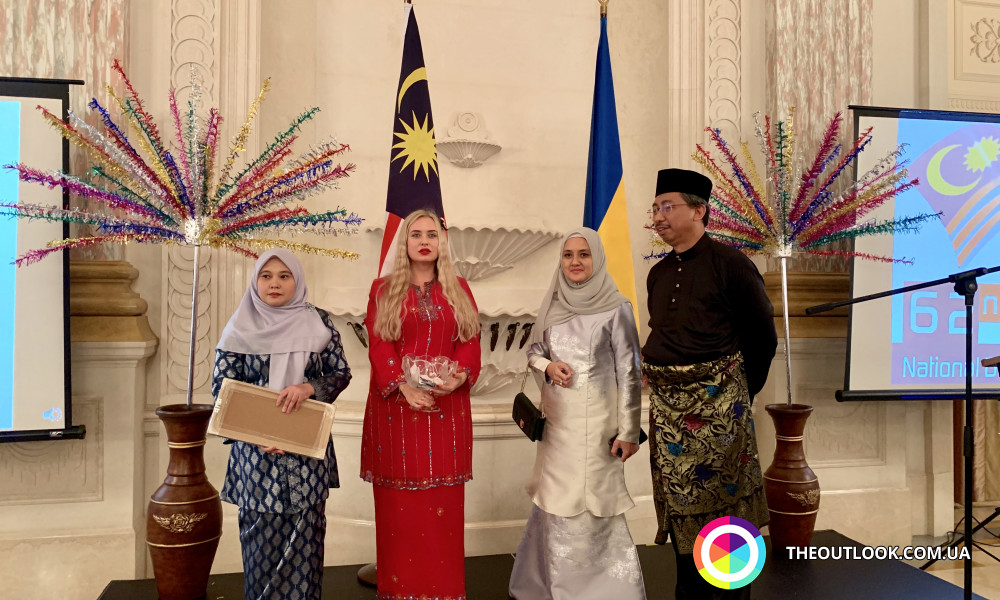 This year, I am very pleased that the private sector of Malaysia and Ukraine are collaborating actively in new areas such as manufacturing of smart meters, drones, aerospace and aviation. I hope more Malaysian companies are given the opportunities to take part in Ukrainian economic activities such as in the fields of infrastructure and airport management.
In the meantime, Malaysia and Ukraine are in the midst of concluding the MoU on Co-operation in field of Higher Education. Once completed, I am hopeful that more Ukrainian students could take advantage of studying in Malaysia due to the affordable cost and the quality of university education.
I am pleased to announce that in 2018, Ukraine was accepted as one of the Recipient Countries of the Malaysian Technical Cooperation Programme (MTCP). Throughout this year, several Ukrainian officials have participated in various capacity building programmes offered by Malaysia through the MTCP and they are among our guests this evening. I sincerely hope that Ukrainian officials will benefit from the knowledge and know-how gained from the courses offered which then may also contribute to Ukraine's reform efforts particularly in the economic and education spheres.
In closing, I wish to reiterate my deepest appreciation to all of you, friends of Malaysia for the goodwill and relationships you have built with us. I count on your valuable support and cooperation to facilitate more meaningful engagements between Malaysia and Ukraine and in your support, I am confident that the scope of our two countries' cooperative endeavours will be further broadened.
The trade relations between Malaysia and Ukraine has prospered and grown stronger each year. For the first time in 11 years, Ukraine had registered a trade surplus of USD22.2 million against Malaysia in 2018. Major export products from Malaysia during that period were palm oil, electrical and electronic products, rubber products and processed food. Major imports from Ukraine over the same period were sunflower oil, agricultural products, iron and steel products and prepared foods. In the first seven months of this year, total trade turnover between Malaysia and Ukraine showed a positive growth of 33.2%.
In terms of tourism, in 2018, tourist arrival from Ukraine was recorded at 14,529 an increase of 11 % compared to the year 2017.
Also Malaysia and Ukraine are currently finalising Agreement on the Mutual Abolishment of Visa Requirements and that means both Malaysian and Ukrainian could enjoy a free visa travel to each other's country for a period maximum up to 90 days in the near future.
The diplomatic reception ended with the drawing of souvenirs.