Ambassador of Turkmenistan Celebrates the Day of Revival, Unity and Magtymguly's Poetry along with the Constitution Day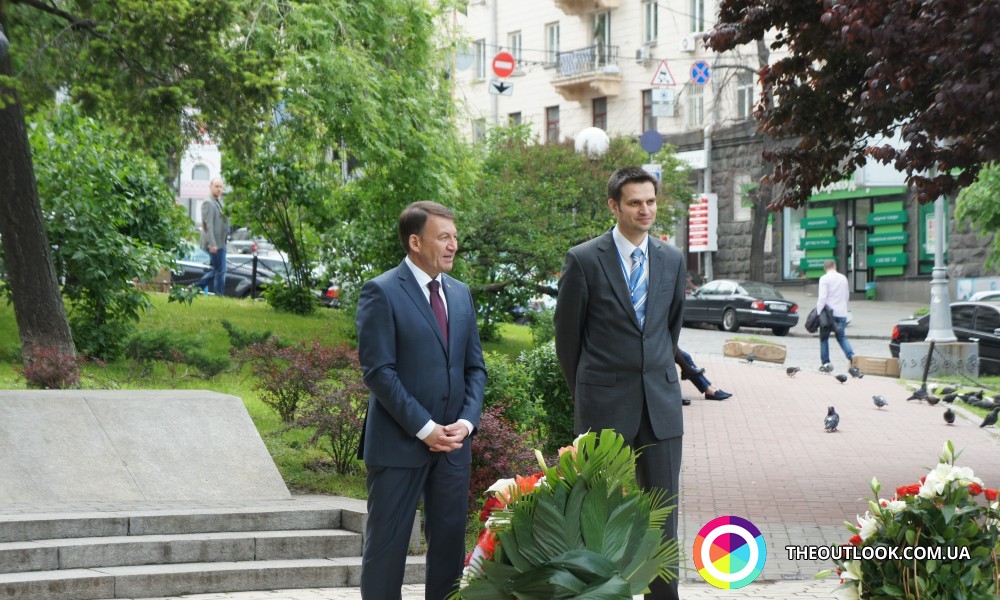 Ambassador Extraordinary and Plenipotentiary of Uzbekistan to Ukraine Nurberdi Amanmyradow held solemn events in Kyiv in honor of the Day of Revival, Unity and Magtymguly Pyragy's poetry and 24th anniversary of adoption of the Constitution of Turkmenistan.
Within the framework of the celebration the head of the diplomatic mission participated in ceremony of laying flowers to the monument of Magtymguly Pyragy in the centre of Ukrainian capital and also held a reception.
Ukrainian poet Dmytro Pavlychko read poems of the classic in open air, also, national Turkmen music sounded, exchange of artistic impressions and tasting of exquisite dishes of Turkmen cuisine took place and traditional Turkmen pilaf drew lots of attention; it all created an atmosphere of understanding and fostered friendship between our peoples.
Colleagues of Mr. Ambassador, heads of diplomatic missions of Bulgaria, Georgia, Moldova, Romania, Palestine, Hungary, Iran, Tajikistan, Afghanistan, Kyrgyzstan, First Deputy Minister of Culture of Ukraine Mr. Ihor Likhovyi, Director General of Directorate General for Rendering Services to Diplomatic Missions Mr. Pavlo Kryvonos, representatives of Kyiv City State Administration and related ministries, heads of expatriate communities, representatives of the media arrived to pay their respects to Mr. Amanmyradow.
Art of Magtymguly, the thinker who laid foundation for classic Turkmen literature by combining literary language with everyday speech of people, covered all aspects of Turkmen life of that period. Alongside ideas of courage, heroism, patriotism and national statehood, there are numerous poems in his artwork that anthemise everyday life. One of distinctive features of his literature heritage is organic link of art with folk wisdom, folklore. Many words of the poet turned into sayings and proverbs. The reason for such popularity isn't just about contents of his lines but also about elegancy and lightness of their art form and language.
Ministry for Culture and Media of Turkmenistan along with other authorities and nongovernmental organizations annually prepare busy program of festive events. Exhibitions of famous Turkmen painters, graphic artists and sculptors are held in museums, scientific conferences – at institutes, literature and music events – at theatres and concert halls.