In Kyiv it was presented the book dedicated to the 25-th anniversary of Kazakhstan independence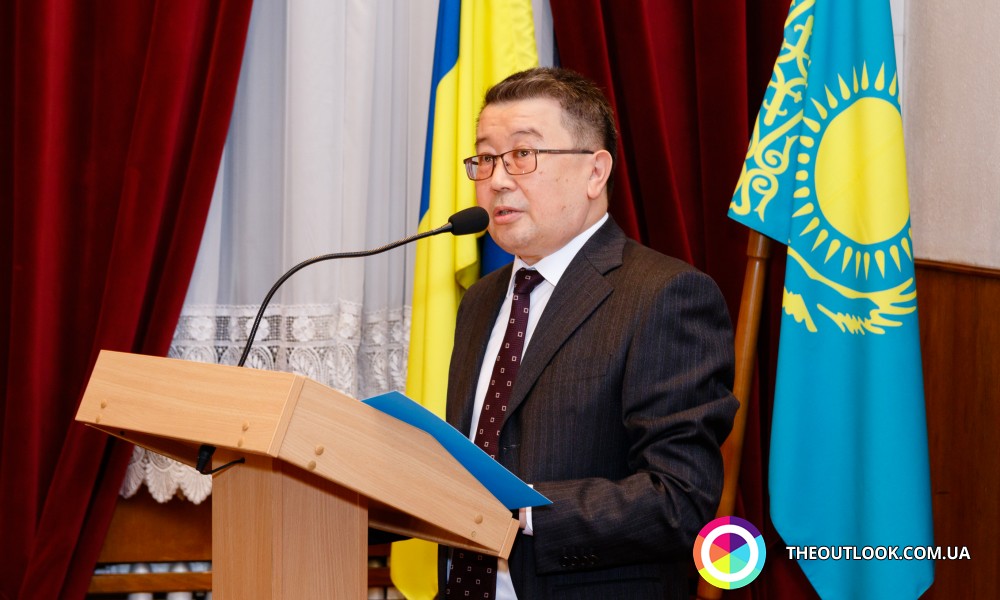 Before the national holiday, Day of the First President of Republic Kazakhstan, as well as in the frames of celebration of the 25-th anniversary of the Independence of Kazakhstan, in Kyiv in the National Academy of science of Ukraine there was a presentation of book 'Central Asian Pard'.
The book was published by the Embassy of Republic Kazakhstan to Ukraine and prepared by Ukrainian publicist, director of International Institute of Kazakhstan and Ukrainian relations Stepanenko N.I. The foreword to the stated book was written by the second President of Ukraine Leonid Kuchma.
The book 'Central Asian Pard' includes the main steps of development of the sovereign Kazakhstan, the strategies of its gradual growth consisting of economic modernization, creation of Kazakhstan society and the key foreign policy priorities.
Especial attention in the book is paid to the personality of the President of Republic Kazakhstan Nursultan Nazarbaev and his contribution in the development and deepening of Kazakstan and Ukrainian relations.
At the presentation there were the heads of diplomatic missions embedded in Ukraine, nation deputies of Verkhovna Rada, representatives of the Ministry of foreign affairs of Ukraine, academic and expert community of Ukraine, famous writers and mass media. Among them there were nation deputy of Verkhovna Rada of Ukraine R. Demchak, Hero of Ukraine writer I. Drach, the first cosmonaut of Ukraine, Hero of Ukraine L. Kadenyuk, vice president of National Academy of Science of Ukraine, academician A. Zagorodniy, and others.
In his speech the Ambassador Extraordinary and Plenipotentiary of Republic Kazakhstan to Ukraine Samat Ordabaev made an emphasis on the fact that in such a short time period on the historical measures the country under the guidance of its Leader, the President Nursultan Nazarbaev reached an overnight success in the arrangement of political and economic reformations, implementation of multifunctional foreign policy. He explained in details the main directions of the Plan of Nation of implementation of five institutional reformations 'One hundred exact steps' and program of infrastructural development 'Nurly Zhol'. The key interest of the audience was caused by the leading statements of the patriotic national project 'Mangilik el' spearheaded by the Head of Kazakhstan.
The head of diplomatic mission of Kazakhstan expressed the special gratitude to the Second President of Ukraine Leonid Kuchma for his sincere and soul-gripping words about Kazakhstan and its Leader which were expressed in the foreword of the book.
Ukrainian academic and expert communities highly estimated the book 'Central Asian Pard' marking the success of Kazakhstan at the international arena as well as importance of deepening and maintaining friendship and collaboration of Kazakhstan with Ukraine.